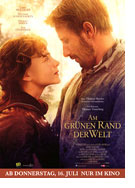 Am grünen Rand der Welt (Far from the Madding Crowd)
U.K./U.S.A. 2015
Opening 9 Jul 2015
Directed by: Thomas Vinterberg
Writing credits: Thomas Hardy, David Nicholls
Principal actors: Carey Mulligan, Matthias Schoenaerts, Michael Sheen, Tilly Vosburgh, Mark Wingett
Since 1995, when he and fellow Danish avant-gardian Lars von Trier touted their Dogma 95 filmmaking manifesto, director Thomas Vinterberg has come a long way. Or has he? Twenty years on, Vinterberg's lavish new film, based on Thomas Hardy's 1874 novel Far From the Madding Crowd, (thankfully) breaks several of Dogma's "vows of chastity" - particularly the one requiring films to be set in the here and now. But the goal of the Dogma collective was always to purify filmmaking by rejecting Hollywood-style artificiality and concentrating on the story and the actors' performances and to these ideals Vinterberg's new film is true. The actors are uniformly first-rate, and Hardy's story resonates just as strongly after 140 years.
Bathsheba Everdene (Carey Mulligan) is an independent-minded country girl who goes to work her aunt's farm, having lost her parents and her fortune. Nurturing her own ambitions, Bathsheba refuses to be tied to anyone else. She is instinctual, a good horsewoman, and a hard worker, and also straightforward enough to admit to being somewhat vain. Her headstrong characteristics attract the attention of neighboring landowner Gabriel Oak, a strong silent type and man of the earth, played by handsome Belgian Matthias Schoenaerts. In his blunt way, he proposes to her the second time they meet and Bathsheba immediately rejects his honest offer. A husband isn't part of her plans.
Soon enough, Bathsheba comes into a fortune and an impressive country seat of her own, and as the new mistress of the estate, she must find ways for the farm workers to respect her decisions. She hires Gabriel, who has had a striking reversal of fortune and is now destitute. Though the situation is awkward, she values his steadfast hard labor -- and she needs him. Gabriel is content to stay in the background, quietly protecting her interests, even at the risk of his own life. On a childish whim, Bathsheba sends an insincere valentine to Mr. Boldwood (Michael Sheen), a humorless and lonely middle-aged bachelor who owns the neighboring estate. To her dismay, he takes her declaration of love seriously, and soon proposes to make her his wife. Though in principle she finds such an idea laughable, it's one she must consider, since a woman alone struggles for security. She begs Mr. Boldwood for time to think his offer over.
Now Bathsheba's eye is caught by a gadfly, a soldier in a scarlet tunic. Sergeant Troy (Tom Sturridge) is a cad and a rough gambler, but he's unbearably good-looking. Troy seduces her, blinding sensible Bathsheba into actually marrying him. She soon realizes her horrible mistake, and her carefully-planned out world threatens to come crashing down around her.
Shot in rugged hill country in Dorset, Southwest England, the film captures the lives of people aligned with the rhythms of nature. Humility, loyalty, and reliability are great virtues, and Gabriel's and Bathsheba's relationship to the earth binds them together. Scything, tilling, building fences, and herding sheep are honest respites from the nonsensical business that humans have constructed in the name of "society"."
Far from the Madding Crowd is far from the kind of movie those familiar with Thomas Vinterberg's work might expect him to make. And yet Bathsheba is a Vinterbergian character, conflicted about the necessity of conforming to the stifling societal norms which she rejects. Vinterberg's best-known previous films, The Celebration (in which a wealthy family is racked by accusations of sexual abuse) and The Hunt, (a kindergarten teacher is cast out of his community after being wrongly accused of abusing children) also feature morally decent central characters caught up in sexual and societal taboos. Disheartened by modern cynicism, Vinterberg (who grew up on a commune) seems to be nostalgic for simpler times, pursuing dreams of freedom from the regulations of a cruel and well-ordered society. In a 2012 interview in the Guardian, he declared, "The mediocre, rational world is my enemy. Well-adjusted is the thing that I hate. Well-adjusted means fearful and cowardly." Vinterberg is currently in post-production on The Commune, which reunites him with Celebration stars Ulrich Thomsen and Trine Dyrholm. We won't expect it to be set in a rational world and feature well-adjusted characters. (Brenda Benthien)


Second Opinion

Thomas Hardy would mightily approve this adaptation of his – fourth, and successful – 1847 novel, last brought to the screen in 1967 (director John Schlesinger's fourth film). The 2015 film combines an unorthodox Danish director (Thomas Vinterberg, The Celebration, The Hunt), a tried-and-true author and screenwriter (David Nicholls, Starter for 10, One Day), and a mixed bag of stellar thespians, a "crack-team of visual artists", and the terrestrial southwest Dorset and coastline to impregnate this period epic with timeless contemporary creditability, sumptuousness, and unrestrained passion.
Hardy created a capricious, inspirational female protagonist, e.g. Suzanne Collins' Katniss Everdeen in The Hunger Games. Bathsheba Everdene – young, fiery, willful, unfettered – admits to being, "Educated yet with nothing to give". An early, ardently single feminist, Bathsheba comes into an improved societal position that strengthens her perseverance in male-dominated Victorian England. She attracts three dissimilar suitors: the constant farmer, the country squire, the seductive Sergeant. Their fascinating stories unfold among the local convivial, earthy inhabitants who are in tune with nature's cycles. Belatedly, Bathsheba ascertains not all choices bring happiness, while oftentimes what is within arms reach is golden.
Good casting (Nina Gold, Theo Park) pays in spades. Carey Mulligan's facial subtleties reflect the kaleidoscope of feelings Bathsheba wears on her sleeve, whether being vivacious or stoically enduring mistakes. Making-up for his stilted performance in A Little Chaos, Matthias Schoenaerts' rugged physicality adds to the individualist sheep farmer Gabriel Oak's character: steadfastness, munificence, honesty, patience, and amity as well. As the older, reticent bachelor landowner William Boldwood, Michael Sheen combines gravitas with strength, melancholy with pride, and a deep loneliness overpowered by figments of his imagination. Upon first glance, we sense Sergeant Troy's darker side that women should avoid, and Tom Sturbridge encapsulates: charming yet effete, full of vigor yet conceitedly fickle, lustful yet self-deceiving. Juno Temple as the vulnerable Fanny, and Jessica Barden as loyal Liddy round out the central characters.
Shot in Hardy Country in Technicolor, cinematographer Charlotte Bruus Christensen embraces the characters and natures turbulences beautifully. Award-winners Claire Simpson stitches the film in shape, as Janet Patterson does costumes. Kave Quinn's production design, Craig Armstrong's music, and Glen Freemantle's sound design add to our spirited journey. This sweeping tale of Thomas Hardy's takes on unconventional love and fortune reversals ensures alluring viewing that lingers long after leaving the cinema. (Marinell Haegelin)