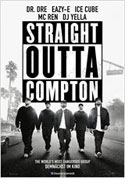 Straight Outta Compton
U.S.A. 2015
Opening 27 Aug 2015
Directed by: F. Gary Gray
Writing credits: Jonathan Herman, Andrea Berloff, S. Leigh Savidge, Alan Wenkus
Principal actors: Corey Hawkins, Jason Mitchell, O'Shea Jackson Jr., Neil Brown Jr., Paul Giamatti
In the late 1980's, just south of Los Angeles in Compton, California, a group of friends gathered to express their life experiences in an evolving style of hip hop music. This film, loosely based on real events, chronicles the rise of N.W.A. ("Niggaz wit Attitude"), the controversial hip hop/rap group which helped bring gangsta rap into the mainstream.
The story begins with Andre Romelle Young, known as Dr. Dre (Corey Hawkins) trying to earn a living as a DJ. He wants to convince his friend Eric Wright, also known as Eazy-E (Jason Mitchell), a drug dealer, to put some money into a legitimate business: records. This eventually leads to the formation of N.W.A with Dr. Dre, Eazy-E, O'Shea Jackson known as Ice Cube (played by his son, O'Shea Jackson Jr.), Antoine Caraby known as DJ Yella (Neil Brown Jr.) and Lorenzo Jerald Patterson known as MC Ren (Aldis Hodge). Various personal experiences of the group members become the basis for their rap songs, particularly brutal encounters with police in Compton.
The group finds early success with the release of its first single Boyz-n-the-Hood, a song written by Ice Cube that Eazy-E was convinced to rap. The song catches the attention of Jerry Heller (Paul Giamatti) who becomes the supportive but perhaps not exactly honest manager of N.W.A. Their first album Straight Outta Compton successfully debuts in 1988. N.W.A. goes on tour, enjoying the frenetic fame, lusty babes and rampant intoxication sudden success can bring. But they also face protests from crowds angered by their lyrics; most famously their verbal attack on the police in their hit song Fuck tha Police, which lead to a riot and arrests in Detroit after the group performed the song despite warnings against it from the police.
There are normal problems like money disputes, contract issues, lawsuits and ego trips. These scenes starkly contrast with over-the-top wild parties featuring multiple copulations, violent street fights, often insolent, offensive language and blistering personality clashes. But the best part of all the melodrama is actually the music. Although controversy will continue over what is fact or fiction, the film presents some evocative insight into a group whose music is still influential, however, Parental Discretion Iz Advised! (Mary Nyiri) (Mary Nyiri)