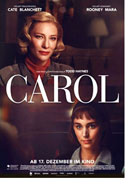 Opening 17 Dec 2015
Directed by: Todd Haynes
Writing credits: Patricia Highsmith, Phyllis Nagy
Principal actors: Cate Blanchett, Rooney Mara, Kyle Chandler, Jake Lacy
Carol, based on the erotic novel by Patricia Highsmith, Price of Salt, starring Cate Blanchett and Rooney Mara and directed by Todd Haynes, seems a sure winner. And the audience in Cannes gave it a standing ovation. That said, it is slow, and Blanchett (Carol) seems one dimensional, although Rooney (Therese Belivet) gives an excellent performance as the young clerk in a department store, who falls for the older, sophisticated woman. The expected steamy heat is very, very subtle and the climax too late in a long film. 
The back story is excellent: Carol is in the midst of a contentious divorce and her husband Harge (Kyle Chandler) is determined to win custody of their four-year old daughter, Carol's real passion. Therese also has a life to consider.
Haynes has made a visually splendid film rich in the details of the '50s in New York. The cars, the clothes, the streets, everything you see, is a letter-perfect reflection of those times. 
All things considered, it is a film worth seeing. (Adele Riepe) (Adele Riepe)


Second Opinion

The wealthy and very fashionable Carol from New York City's suburbs of New Jersey meets the younger Theresa, a sales clerk in the toy section of a department store, while shopping for her daughter's Christmas present.
They develop a relationship which is at first encouraged through Carol's advances and efforts. To run from facing Christmas alone without her daughter, Carol convinces Theresa to take a spontaneous road trip west bound together, which intensifies their feelings for each other. A dramatic incident shows both that it is not all sugarcoat and candy canes and that what you want is not always what is best for you or the people around you.
As the story unfolds it reveals only bit for bit the real tragic behind Carol's classy and seemingly cold façade – that of a lesbian mother and soon divorcée caught in the prude narrow minded '50s USA, longing for love, her own freedom, and the right to be a mother.
Cate Blanchett plays Carol with so much class and convincing pride, it is difficult to decide who is better; Rooney Mara in the role of Theresa with her fantastic mix of Audrey Toutou's flare of innocence and the boyish attitude of a young Winona Ryder or the Hollywood Star.
The slow pace of the movie's narration allowed to indulge in the picturesque scene compositions and to enjoy each scene for itself like a painting. Not to mention the grand choice of Carol's wardrobe of top nudge 50's vintage. This is my top pick for the Oscars, and even if it is for "Best Costume" only. (Karen Eve Malinowski O'Shaughnessy)