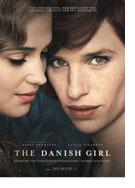 Opening 7 Jan 2016
Directed by: Tom Hooper
Writing credits: David Ebershoff, Lucinda Coxon
Principal actors: Eddie Redmayne, Alicia Vikander, Amber Heard, Tusse Silberg, Adrian Schiller
The silk stockings did it! They put in motion a chain of events which proved to be unstoppable. Or perhaps it was the childhood memory of something which could never quite be forgotten?
Einar Wegener (Eddie Redmayne) and Gerda (Alicia Vikander) are happily married artists who live and work in Copenhagen. At the start of the movie, which begins in 1929, Einar is a successful landscape painter who obsesses on painting the same scene over and over again. Gerda's paintings are less commercially successful than her husband's and this fact, coupled with the lack of a baby after six years of marriage, puts a dent in their happiness.
Their friend Oola Paulson (Amber Heard) is a ballet dancer presently being painted by Gerda. When putting the finishing touches to the painting and in Oola's absence, she asks Einar to model her stockings and pretty ballet slippers. Einar is reluctant to do this but he pulls up his trousers, pulls on the stockings over his hairy legs and forces his large masculine feet into the dainty ballet pumps. This amusing and seemingly light-hearted action triggers a chain of events which have devastating consequences for Einar and Gerda.
Director Tom Hooper's movie is long, slow at times, but gorgeous to look at. The couple just happens to live in a beautiful apartment on that famous waterfront street in Copenhagen which is on the front of every tourist guidebook. When they move to Paris their apartment is an Art Nouveau dream and later, when they visit Dresden, the camera lingers over the wonderful views of the old city taken from across the river Danube. The eyes feast on this movie.
Eddie Redmayne may well be considered as an Oscar candidate in this movie, but there are fine supporting performances from other members of the cast too. Ben Wishaw is winsome as Henrik, and Matthias Schoenaerts is wonderful as dependable Hans. Sebastian Koch plays the well-meaning but misguided doctor with chilling perfection. Pretty Alicia Vikander does her best as Gerda, whose understanding approach to the problem seems to be too modern for the time.
The movie is based on David Ebershoff's book of the same name as the movie, which tells the true story of Gerda and Einar and may romanticize the true facts of their story. Without giving the plot away, one feels that the movie doesn't explain the subject matter sufficiently to help the audience develop a better understanding of it. Despite these reservations, The Danish Girl is worth watching for Eddie Redmayne's fine performance and the beauty of the locations. (Jenny Mather)