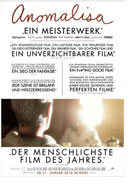 Opening 21 Jan 2016
Directed by: Duke Johnson
Writing credits: Charlie Kaufman
Principal actors: David Thewlis, Jennifer Jason Leigh, Tom Noonan
Anomalisa, a stop action puppet film (puppets built on 3-D printers), is among the 2016 Oscar nominees for best animated feature.
Spoiler Alert
The unique puppet construction, with obvious edges of wigs and joints, is an initial visual jolt for the audience, and it takes time to get used to it. The jolt is more a slow revelation with the sound, "Why does the person on the other end of his phone call sound like ...the bellboy...the hotel manager...angry ex-lover ...his wife?" (because Tom Noonan voices all characters other than the main protagonists, Michael Stone (David Thewlis) and Lisa Hesselman (Jennifer Jason Leigh)).
We share the story from the standpoint of Michael, intensifying the intimate view of this man sinking deeper into his depression -- exacerbated by living in a consumption driven society where people compensate for their loss of humanity by becoming more like robots, each reacting to this reality based upon what's left of their personality.
In Cincinnati to give a motivational speech and promote his book How May I Help You Help Them?, Michael hears a singularly beautiful voice from the hotel hallway, that of the shy Lisa, and immediately falls in love. These moments in the film where humanity shine through are more brilliant (just like the burst of Hamburg sunlight after a rainy day). The terrific animation emphasizes this with its selectivity, loving capturing details like following a brush of the hand across a steamy mirror.
Their relationship is star crossed, typical for a screenplay by Charlie Kaufman (Adaptation, Being John Malkovich, 2005 best writing Oscar for Eternal Sunshine of the Spotless Mind) who wrote the first version also in 2005 (a great year for him, also the time setting of Anomalisa) as a sound play, where the actors mainly read the parts on stage, comparable to an opera "in concert." Kaufman had to be convinced the play would work as a film, and Duke Johnson came in with the animation. Kickstarter was used to raise the initial funds, and now hopefully an Oscar winner!
There is some surprising puppet action and always good humor. (Nancy Tilitz)