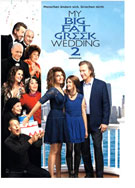 My Big Fat Greek Wedding 2
U.S.A. 2016
Opening 24 Mar 2016
Directed by: Kirk Jones
Writing credits: Nia Vardalos
Principal actors: Nia Vardalos, John Corbett, Michael Constantine, Lainie Kazan, Andrea Martin
In a film industry saturated with sequels, My Big Fat Greek Wedding 2 is close to the top of the list of ones that should not have been made. As you guessed it, the second installment involves yet another wedding, but this time with Toula's (Vardalos) parents. It turns out that the priest had not signed the marriage certificate back in Greece so they are not officially married. Here ensues the echo of a drama complete with over the top cultural stereotypes padded with passionate yelling and delicious food. Amidst all of this, Toula is dealing with the separation of her daughter Paris (Elena Kampouris) and her impending university admittance and the neglected state of her marriage to her husband.
When Nia Vardalos wrote the original sleeper hit, no one knew it would go on to be the highest grossing romantic film. It was a big achievement for a woman and for a film to show a non-mainstream culture that ended up resonating with millions of people. That was twelve years ago.
I expected better of Vardalos. I had hoped that since we waited this long for a sequel, it would at least be the same or better than the original, kind of like the Before Sunrise series. The one element I appreciated was the visual montage of the three different generational relationships; the grandparents, Toula and her husband Ian (Corbett), and Paris and her love interest.
Even with the original cast intact, Ian, Gus (Constantine), Maria (Kazan) and the addition of the daughter Paris, the film was too saccharine, melodramatic and skirted the surface of the lives of the characters so that it left you feeling shallow. Perhaps I should have come in with no expectations then I wouldn't have felt so let down. But I have the feeling even the absence of expectations would do little to change a script that had steeped for over a decade and became murky in the process. (Lubi Barre)