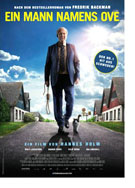 Ein Mann namens Ove (A Man Called Ove, En man som heter Ove)
Sweden 2015
Opening 7 Apr 2016
Directed by: Hannes Holm
Writing credits: Fredrik Backman, Hannes Holm
Principal actors: Rolf Lassgård, Zozan Akgün, Tobias Almborg, Viktor Baagøe, Filip Berg
Grumpy old man -- heart of gold --we think we know the movie, but this is a very different film!
The old man, Ove (a perfect Rolf Lassgård), maintains iron control over the neighborhood -- confiscates bikes not stored away, tells the young woman with the small dog that he will turn it into hamburger if it pees on the sidewalk.
It gets better.
Ove is so miserable (visits his dead wife daily with flowers at the cemetery) that he wants to kill himself. He tries often but is constantly thwarted by some neighbor who needs his attention.
New neighbors move in: a chatty Iranian woman with two young daughters, a baby on the way, and her Swedish husband (whom Ove dismisses as a loser). The hapless husband knocks down Ove's mailbox, infuriating Ove. But Parvenah (a delightful performance by Bahar Pars) brings over a peace offering: a plastic box with a delicious meal, ringing the doorbell and interrupting one of Ove's attempts to hang himself. Later the two become fast friends.
The book was a mega bestseller in 30 countries and has been adapted by the author, Fredrik Backman, and the director, Hannes Holm. It also won six Guldbagge awards, including Best Feature Film and Best Male Actor, from the Swedish Film Industry.
The fascinating back story, both sad and funny, is revealed as the film progresses. Young Ove growing up (Filip Berg), losing his father (his only family), meeting and marrying his beautiful Sonja (a mesmerizing Ida Engvoll), his obsession with Sweden's Saab cars, his small but rich life.
There is so much more to come, but I don't want to spoil it for you. The film is truly lovely -- a rare, charming and delightful story. Do go to see it! (Adele Riepe)