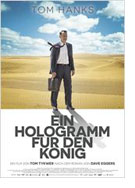 Ein Hologramm für den König (A Hologram for the King)
U.K./France/Germany/U.S.A. 2016
Opening 28 Apr 2016
Directed by: Tom Tykwer
Writing credits: Dave Eggers, Tom Tykwer
Principal actors: Tom Hanks, Alexander Black, Sarita Choudhury, Ben Whishaw, Tom Skerritt
Hologram: a ​special ​type of ​​laser-made ​image or photograph in which the ​objects ​look ​solid, i.e. ​real, ​rather than ​flat. Alan Clay's (Hanks) company sends him—he has connections—to Saudi Arabia to pitch their product to the King. First morning, he oversleeps due to jetlag combined with personal worries. Hence, the somewhat Westernized Yousef (Black) becomes his driver. But, nothing is as it seems, delays are inevitable; his team's (Megan Maczko, Jane Perry, David Menkin) productivity depends on Alan's positivity. During this lull, Alan learns more about the project, and himself. Not your usual salesman. He finally meets Mr. Al-Ahmad (Khalid Laith), having earlier met his straight-talking secretary Hanne (Sidse Babett Knudsen). With a boss breathing down his neck, a minor medical issue, the heat, the stress, Alan snaps. The doctor (Choudhury) handles his medical concern; memories—providing background information, and circumstances—like puffs of smoke, they quickly change, helps Alan decide his next life move.
Director Tom Tykwer (Cloud Atlas, 2012, Run Lola Run 1998) bases his screenplay on Dave Eggers' 2012 book of the same title. Hanks' portrayal is measured, the casts' performances sound, and the topography impressive. There is a respectful accuracy for the local lifestyle. Alexander Berner's editing, Frank Griebe's cinematography, and Johnny Klimek's music savor the location's essence. This interesting film reminds us, "there's time… there must be time." (Marinell Haegelin)


Second Opinion

Working from his own screenplay, director Tom Tykwer (Cloud Atlas, Run Lola Run) has adapted Dave Egger´s 2012 book A Hologram for the King as a dramatic comedy with the same title. Tom Hanks is Alan Clay, a failed and flailing middle-aged American businessman. In the first few minutes we learn that Alan´s marriage has ended, he´s in debt, and his beloved daughter´s education is in jeopardy if he can´t raise the money for her university tuition. But Alan isn´t completely defeated yet. The former Schwinn bicycles executive, who was responsible for outsourcing production of the bikes to China – and ultimately diluting an iconic American brand – finds himself a new global opportunity: attempting to sell a high-tech communications system to the King of Saudi Arabia.
Unfortunately for Alan and his young team, gaining an audience with the king is harder than expected, and the American go-getters find themselves waiting and waiting in the desert near the Red Sea. This frustrating vacuum of downtime forces Alan into a friendship with a local man, Yousef (Alexander Black), who is hired by Alan´s hotel to drive him around – in a completely out-of-place jalopy. We get a budding bromance between the two, and Yosef´s chilled-out, goofy yet sincere personality seems to unlock something pent up in Alan, who relaxes a bit, and even asks to accompany the younger man on a road trip, which includes a scene in Mecca that manages to be simultaneously slapstick and moving.
The film keeps coming back to the idea of cultural differences and overlaps (Yosef studied for a year in Birmingham, Alabama of all places, and holds the US in high regard), attempting to get at what makes people from such different worlds able to find common ground. We also get a look at the hedonistic lifestyle taking place behind closed doors in the Kingdom, such as at the Danish Embassy, where Hanne (an excellent Sidse Babett Knudsen) invites Alan to a party and much more. But it is another woman, a Saudi doctor (Sarita Choudhury), who arouses Alan´s curiosity, when he visits her office to have a cyst on his back examined. (The cyst is the weakest part of the story, a literally physical manifestation of Alan´s stress, in case we didn´t get it.) While economic globalization doesn´t work in Alan´s favor, we get the sense that his burgeoning cultural awareness just might. (Diana Schnelle)