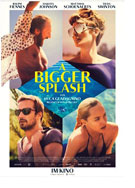 Opening 5 May 2016
Directed by: Luca Guadagnino
Writing credits: David Kajganich, Alain Page
Principal actors: Tilda Swinton, Matthias Schoenaerts, Ralph Fiennes, Dakota Johnson, Corrado Guzzanti
If the title A Bigger Splash seems vaguely familiar to you, then you may be reminded of David Hockney's famous swimming pool painting of the same name. Swimming pools play an important part in this movie, and director Luca Guadignino says that he is also paying homage to the movie La Piscine which was made in1969. The setting for this movie is not France but an isolated villa with a swimming pool of its own on the Italian island of Pantelleria, off the coast of Sicily.
A gilded couple laze about on a sunny beach and cool off in their villa's pool. Marianne (Tilda Swinton) is a rock star who is convalescing after an operation on her throat which requires her to rest her voice completely. Her companion of the last six years is Paul (Matthias Schoenaerts), who is himself recovering from an earlier trauma while devotedly caring for Marianne.
Their holiday peace is shattered by the arrival of Harry (Ralph Fiennes), an ex-lover of Marianne's and an old friend of Paul's. Harry is a larger-than-life character who needs always to be the centre of attention. He is a music producer with many tales of making records with, for example, such megastars as the Rolling Stones, and he repeats his stories to the bored Marianne and Paul who have heard them all before. His excited and energetic dancing to an old Stones' song is one of the highlights of the movie.
When they collect Harry from the airport, Marianne and Paul are surprised to find that he has brought along a second person. This is Penelope, whom he believes to be his daughter. The young woman's mother had told him so a year earlier, and he is happy to believe her story. As Penelope walks out of the airport you feel that she might as well have Trouble stamped on her forehead as she is very clearly going to set the cat among the pigeons. The four of them set off for the return journey to the villa, and father and daughter set about fulfilling their agenda.
The camera moves ever so slowly across the rocky beauty of the island, but the sexual tension in the villa moves along at a cracking pace. Harry's purpose in visiting his old friends seems to be to prise them apart and reclaim his old lover. Penelope, however, has her sights on other prey. Gradually the movie begins to take shape.
Ralph Fiennes is terrific as Harry, and Tilda Swinton is equally as good as the rock star performer. She reminds us of the androgynous David Bowie in flashbacks of her time with Harry, but she is perfection as the stylish and indulged Marianne of the present.
The movie is easy on the eye; there is nothing nicer than watching a movie about a holiday in the sun during winter's cold, grey days, but it is only in the last half hour or so that it gathers momentum. Everything then falls into place and leads to the inevitable climax. In this erotic movie the spoiled, rich players enjoy sex in the swimming pool and anywhere else they please, some prance about in their birthday suits but all display a detachment from the real world. Do they get their just desserts? Are they treated in the way ordinary people would be treated in a similar situation? And, finally, are they going to get away with it? (Jenny Mather)