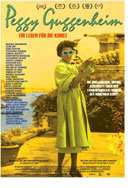 Peggy Guggenheim - Ein Leben für die Kunst (Peggy Guggenheim: Art Addict)
U.S.A./Italy/U.K. 2015
Opening 5 May 2016
Directed by: Lisa Immordino Vreeland
Writing credits: Bernadine Colish, Lisa Immordino Vreeland

To encapsulate the magnitude of Peggy Guggenheim: Art Addict is daunting. This compelling look at 20th century's social history through modern artists and their masterworks follows the life and loves of a fascinating woman. Outstanding introduction titles combine art, graphics, and beguiling music, setting the film's tone. Born into a wealthy New York City family in 1898, the 1929 stock market crash and the "RMS Titanic" tragedy implicitly alters her life.
Director Lisa Immordino Vreeland harnesses taped interviews, previously believed lost, with Peggy Guggenheim from 1978 and 1979. Peggy used art as a vehicle to being independent. From bourgeois to bohemia, she liked to shock, had an insatiable sexual appetite, and moved between Europe and the USA. A seven-year marriage to Dada sculptor and writer Laurence Vail produced two children; after five years, she divorced the German painter Max Ernst. Peggy's candid, revealing observations about herself, and now renowned artists—friends and lovers—accompanies mesmerizing archival footage: Jackson Pollack, Ezra Pound, Picasso, Lucien Freud, John Holmes, Miró, Samuel Becket, Marcel Duchamp, and many others. An eminent collector, Peggy wielded influence with her keen, innovative intuition: she embraced Cubism, Surrealism, Abstract Expressionism, children's art, and was first to present a solely women artists' exhibit.
During World War II, Peggy saved artists, and their works, from the Nazis. She was instrumental to her uncle's Solomon R. Guggenheim Foundation. The Peggy Guggenheim Collection she established in 1949 in a Venetian Palazzo on the Grand Canal, Venice is one of the most visited museums in the world. It was inevitable this film would acquire distribution after showing at various festivals in 2015, including Filmfest Hamburg. The world owes this feisty, courageous woman gratitude for the beauty—European and American modern art—she saved for our prosperity. (Marinell Haegelin)


Drawing of Director Lisa Immordino Vreeland by Nancy Tilitz

Nancy Tilitz's on site drawing includes excerpts from director Lisa Immordino Vreeland's remarks made during the interview at the Abaton cinema at the 2015 Filmfest Hamburg.
The expressive Ms. Vreeland's autograph, an artwork itself, is the triangular form including the date at the center right of her figure. (Nancy Tilitz)