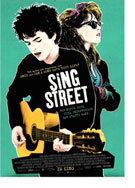 Opening 26 May 2016
Directed by: John Carney
Writing credits: John Carney
Principal actors: Ferdia Walsh-Peelo, Lucy Boynton, Aiden Gillen, Maria Doyle Kennedy, Jack Reynor
John Carney was the director of Can a Song Save Your Life?, a music film with Keira Knightley and Mark Ruffalo that dealt with a songwriter's creativity and a producer's vision coming together on the streets of New York. Now Carney has written and directed another music film about a newcomer, this time set in the '80s in Dublin.
Conor( Walsh-Peelo) is a 15-year old in a Dublin family on the verge of a breakup. With family financial troubles looming big, Conor is removed from his expensive private school and sent to the rough inner-city Synge Street school from one day to the next. This is the eighties, and intolerant, violent methods of education are still common. Conor is bullied by the rector, a Christian Brother of the old school (these punishment scenes reminded me of similar school situations in Frank McCourt's Dublin memoir, Angela's Ashes). His fellow students reject him as too posh.
The way out of his misery is to form a band. He scrounges up a group of enthusiasts and off they go. Conor's older brother Brendan (Reynor) is both musical mentor and guru of the movements of the eighties, and he encourages Conor to discover modern bands (Duran Duran, The Police, Genesis) and the modern spirit. Conor, he says, simply has to find his own creative voice. Conor discovers his muse, the beautiful girl who stands on the corner, and he begins to write music and film videos. The muse, Raphina (Boynton) is a little bit like an 80's Amy Weinhouse, and worth an extra star for her aura alone.
I liked this film a lot, for the wonderful eighties old-and-new sound track, for the style of the eighties in the makeup, the clothes, the look of the streets. Most of the smaller roles were given to local amateurs, and that made the scenes seem authentic. Before this film Walsh-Peelo was an amateur with a small amount of previous singing experience in operatic productions, and he makes a fine Conor. Conor did seem to me a kind of reincarnation of David Bowie, with his makeup and his extravagant shirts, his visions of ballrooms with gowns and pearls and rock-n-rollers of the sixties. It was odd, though, that Conor called himself a futurist when his vision kept wandering to the past.
Anyone who enjoys coming-of-age films, Irish streets, boy bands, the eighties, music films or costume shoots (or all of the above) will love this movie. (Ann Gebauer-Thompson)