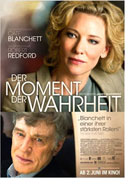 Opening 2 Jun 2016
Directed by: James Vanderbilt
Writing credits: James Vanderbilt, Mary Mapes
Principal actors: Cate Blanchett, Robert Redford, Dennis Quaid, Stacy Keach, Dermot Mulroney
In 2004, Dan Rather made his final broadcast for 60 Minutes ll, the CBS award-winning investigative television journalism show. And, Mary Mapes stopped working as a risk-taking star producer for the station, even though her reporting on Abu Ghraib won a Peabody Award. Truth tells of the events leading up to, and the news story, relevant to these consequences.
As Dan Rather's producer, Mary (Blanchett) pitches her boss a story; CBS has won many awards with this particular newscast. Howard (David Lyons) green lights it, plus her crack team: Lt. Colonel Roger Charles (Quaid), Mike Smith (Topher Grace), and Lucy Scott (Elisabeth Moss). They chase leads and track down sources. With the presidential election heating up other journalists pick up the (story's) scent. Learning their timeframe is shrinking proportionately to timeslots available, Dan (Redford) and Mary choose a primetime slot mere days away. A solid evidential source materializes; pressure intensifies while trying to confirm. With the clock ticking they disregard that old truism – if something seems too good to be true, it probably is.
Based on Mary Mapes' 2005 memoir, Truth and Duty: The Press, The President, and the Privilege of Power, writer-director James Vanderbilt's screenplay is also from Mapes' viewpoint, albeit reveres the iconic Rather, and Mapes. Vanderbilt sure-handedly moves both cast—excellent casting, and acting—during the quick-paced 121 minutes that Richard Francis-Bruce perceptively edits. Mandy Walker's Cinematography is augmentative apropos Fiona Crombie's Production Design and Fiona Donovan's Art Direction.
Important to appreciating Truth is background information. 60 Minutes began airing bi-weekly in 1968 with co-hosts Mike Wallace and Harry Reasoner; Reasoner described it as "kind of a magazine for television." Dan Rather was a 60 Minutes correspondent during the 1970s, when the program's popularity reached #1 in the Nielson ratings (audience measurement systems) by 1979 – virtually unheard of for a newscast. This positioning helped Rather replace the highly respected Walter Cronkite when he retired in 1981 as anchor and Managing Editor of the CBS Evening News: Kennedy's assassination, Armstrong's moon walk, Vietnam, Watergate, the Iran hostage crisis were among Cronkite's many newscasts.
Free mainstay television in USA (advertising supported) allocated a certain amount of airspace for newscasts. Until corporate bottom-line (monetary profit) mindset forced sacrifices – news became a commodity, and viewers hoodwinked. (Under new ownership, in 1984 CBS slashed thousands of newsrooms jobs and bureaus.) Clear is the duplicity of democracy when money, politics, and power are involved. "Reporting the truth means risking it all." Lost in the shuffle was the news story at the crux of CBS conflict—George W. Bush's alleged National Guard service—as political handlers moved quickly, and heads flew. Truth aptly illustrates how the manipulation of facts/truths effect depends on what side you are on. (Marinell Haegelin)