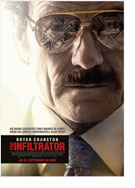 The Infiltrator
U.K. 2016
Opening 29 Sep 2016
Directed by: Brad Furman
Writing credits: Ellen Sue Brown, Robert Mazur
Principal actors: Bryan Cranston, John Leguizamo, Diane Kruger, Benjamin Bratt, Olympia Dukakis
Robert Mazur (Bryan Cranston) is a career undercover U.S. Customs Service agent. Back in the 1980s, after realizing that making drug busts, no matter how large, only interrupt supplies, Mazur becomes a veritable soldier in the war against drugs when he takes on the persona of Bob Musella, a banker for drug dealers who sets up a money-laundering scheme to ensnare higher ranking members of the Medellin drug cartel. In this real-life story, mistakes can cost a life but can also spawn a brilliant scheme.
Married Mazur is not keen to have Musella accept his new colleague's gift of a hooke,r so he explains that he doesn't want to screw up another relationship and wants to remain true to his fiancée. Mazur's boss is not too pleased with adding another agent but unwittingly the groundwork for busting up the money laundering organization of drug lord Pablo Escobar has just been laid.
With his lovely new fiancée Kathy (Diane Kruger) at his side, Musella befriends Escobar lieutenant Roberto Alcaino (Benjamin Bratt), along with his wife and daughter. Through this important connection Mazur gathers enough evidence to break the bank and land major players of the Medellin cartel in jail.
Catching drug dealers has been the subject of many, arguably better, films, but many outstanding performances with more emphasis on character rather than violence and a truly memorable wedding finale will most certainly give you a nice buzz. (Mary Nyiri)