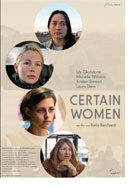 Opening 2 Mar 2017
Directed by: Kelly Reichardt
Writing credits: Kelly Reichardt, Maile Meloy
Principal actors: Michelle Williams, Kristen Stewart, Laura Dern, Lily Gladstone, James Le Gros
Set in the small towns of Montana, Certain Women is a quiet force. It is all in the details. The landscape, the absence of musical score, and the restraint of outward emotion even in the face of heartbreaking moments brings together a monumental emotional feel in the viewer.
It's a simple story, of three women of cursory intersecting lives. Dern plays an exasperated small town lawyer with a client who refuses to listen to her. Williams is a chic, controlling businesswoman intent on building a weekend cottage out of recycled native materials. She is in town camping with her husband and daughter. Stewart is a newly graduated lawyer teaching an evening course on school law. A Native American ranch hand (Gladstone) wanders into her class and is instantly attracted to her.
All three actresses play parts they haven't played before, all with deep underlying tension, like water eroding rock. The newcomer Gladstone is a force. She doesn't say much, but the expressions on her face, the look in her eyes, so gut wrenching big you are almost forced to look away.
Certain Women is a lesson in understatement. The value in letting things sit the way they are, the agonizing depth of silence and the yearning of the human condition of connection. A must-see film that will have you walking away stunned, marveling how complicated simplicity is. (Lubi Barre)