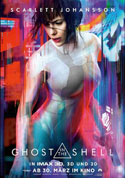 Opening 30 Mar 2017
Directed by: Rupert Sanders
Writing credits: Shirow Masamune, Jamie Moss, William Wheeler, Ehren Kruger
Principal actors: Scarlett Johansson, Pilou Asbæk, Takeshi Kitano, Juliette Binoche, Michael Pitt
In a future Japan, life has become digital to the extent that anyone can "enhance" oneself with cyber technology, meaning that people can replace any given part of their body with a technical or digital feature.
Major (Scarlett Johansson), however, is one of a kind. Built to be a soldier, a weapon to fight for the government, this AI is more than a mere robot. Her human brain, which was somewhat installed into the technical vessel she calls her body, makes her unique in that she can lead and plan like no AI could. She can dissolve into mere pixels as much as she can fight with metal fists and recover from pretty much any injury. When this digital world is threatened by a terrorist hacking into human minds and playing them to carry out his evil plan to take revenge on those who have wronged him, Major might be the only one who can stop it all and eventually understand what this is all about.
The Manga aesthetics integrated in this beautiful piece of cinematography is eye candy on every level. The extraordinary special effects seem more like reality. Ms. Johansson, on the other hand, just has a body to die for. I couldn't quite keep my eyes off those curves. How did anybody else concentrate on the story?
Well done and worth seeing for any science fiction fans. Though this reminded me of The Matrix and any Robocop set in a graphic novel, it still had a flair of the unseen to me. (Karen Eve Malinowski O'Shaughnessy)