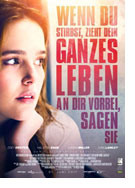 Wenn du stirbst, zieht dein ganzes Leben an dir vorbei, sagen sie (Before I Fall)
U.S.A. 2017
Opening 1 Jun 2017
Directed by: Ry Russo-Young
Writing credits: Maria Maggenti, Lauren Oliver
Principal actors: Zoey Deutch, Halston Sage, Cynthy Wu, Logan Miller, Kian Lawley
The premise is relatively simple: 24-hours in someone's life is stuck like a needle on a vinyl record and keeps repeating. For Sammy (Deutch) the day promises to be special on different levels. Driving to school Elody (Medalion Rahimi) presents Sam with "gloves"; once there, the clique's expectations are gratified. Later at Ally's (Wu), Sam's best friend (Sage) proffers advice for Sam's impending escapade. Later still, at Kent's (Miller) party the hot foursome holds court, until Sam's main squeeze (Lawley) turns spoilsport, and, the girls meet their match (Elena Kampouris).
It is refreshing to see a strong cast of youthful actors who deliver such perceptive performances. With each repeating day, as Deutsch/Samantha reactions change the others sagaciously shift their emotive responses.
Maria Maggenti's incisive screenplay is based on Lauren Oliver's like-named young-adult novel. The genre focuses on themes relating to and inherent in culture norms that engage individuals as they transverse the formative years (loosely, 12 – 20-years). Possibly because they do not prevaricate, in recent years YA novels have appealed to older audiences: Harry Potter series, Hunger Games Trilogy, Twilight Saga, et al.
In director Ry Russo-Young's hands the moral gist is imparted, yet she cleverly refrains from overkill. One has to appreciate Michael Fimognari's selective, comprehensive cinematography and Joe Landauer's prudent editing, pacing footage to fluctuating top hits and Adam Taylor's music. It is hard to ignore how one person can initiate change. Before I Fall's messages subsequently reverberate, "Maybe for you there's a tomorrow … it's what you do today that matters." (Marinell Haegelin)