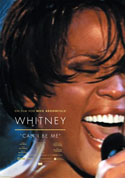 Opening 8 Jun 2017
Directed by: Nick Broomfield, Rudi Dolezal
Writing credits: Nick Broomfield
Principal actors: Whitney Houston
There is such a quantity of quality archival footage in Nick Broomfield and Rudi Dolezal's documentary, we expect Whitney Houston to appear for a curtain call. But then, we know from the opening sequence that is not going to happen. During Whitney's successful 1999 world tour some filmmakers received unprecedented access back stage, and that footage is the backbone here. Nick Broomfield's well-structured screenplay arrangement shows personal footage of 12-year-old Whitney singing gospel and later shot in hotels and behind the scenes, intermingled with her television appearances and interviews, and receiving awards. Interviews with family, good friends, and close associates construct her private and professional background into a substantial film about her life and struggles with personal relationships, drink, and drugs.
Marc Hoeferlin's shrewd editing, Sam Mitchell camerawork, and original music by Nick Laird-Clowes unify and sustain the archival footage. With so many people to keep track of, Hoeferlin should have repeated the lower third names more than once. The German subtitles are appalling: distracting, confusing, and poorly positioned onscreen. Both are a disservice to Whitney: Can I Be Me.
Her music is fantastic, her life moving. The price of fame, lack of self-confidence and self-image problem, and a self-centered inner echelon took its toll on Whitney. Molded and managed by people intent only on short-term goals makes her death tragic indeed. Especially, considering they are benefiting from films, music, etc. royalties still. 103 minutes (Marinell Haegelin)


Second Opinion

An emergency call, sirens, ambulances: Whitney Houston's tragic drowning due to a drug overdose stands at the beginning of this documentary about an exceptional African American performer, whose power and range of voice made her one of the greatest singers of all times. She was only 43 years old.
In interviews with family members, her friend Robyn, ex-husband, staff and entourage, directors Broomfield and Dolezal expose the pressures she was under to meet the expectations and demands of people in her inner circle. The film asserts that the quest for her happiness and fulfillment had been lost in this struggle, and wonders who could have stopped her decline. Some interviewees inadvertently reveal more about themselves than about Houston, and it comes to no great surprise that this documentary is unauthorized. Houston was promoted as a crossover artist. While she appealed largely to white audiences, it estranged her from her roots. Her public persona was this glamorous and beautiful Pop diva from an impressive music dynasty. All true, but she was also a girl from East Orange, New Jersey, where she came in contact with drugs at an early age. The film looks behind the scenes and includes very interesting previously unreleased footage. Especially clips taken at home with her husband and daughter stayed with me. She comes across as funny and at ease with herself. Dolezal might have captured one of the rare moments when she would have answered "yes" to "Can I be me?" (Carola A)