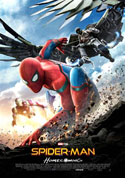 Spider-Man: Homecoming
U.S.A. 2017
Opening 13 Jul 2017
Directed by: Jon Watts
Writing credits: Jonathan Goldstein, John Francis Daley, Jon Watts, Christopher Ford, Chris McKenna
Principal actors: Tom Holland, Michael Keaton, Robert Downey Jr., Marisa Tomei, Jon Favreau
A typical sophomore, Peter (Holland) is distracted, tongue-tied around girls, and considered a nerd even at the science-based Midtown High. Ned (Jacob Batalon) is Peter's go-to guy, Michelle (Zendaya) another outsider, Flash (Tony Revolori) a pain in the arse, and Liz (Laura Harrier) the popular senior everyone emulates. Unbeknownst is that Peter changes clothes/identity into Spider-Man to help people in Queens. Playing with the big boys again after his recent stint with the Avengers takes priority: Peter sidesteps school responsibilities and skirts his aunt's (Tomei) concerns.
His strict mentor, Tony Stark alias Iron Man (Downey Jr.), advocates patience, appointing Happy (Favreau) as Pete's point person. But at fifteen you know everything, remember? Pete inadvertently gets in the way of the new nemesis on the block. Threatening the Vulture's (Keaton) lair raises the ante; it takes a good trouncing for Peter/Spider-Man to rethink tactics, but by then it is personal. What someone does under extreme pressure, though, is the ultimate test.
Producers Kevin Feige, Marvel Studios president and a "driving creative force," and Amy Pascal decided to honor the original comics, including shooting in New York, "Spider-Man is New York City's hero." Director Jon Watts' independent filmmaking background resulted in combining practical (location) sets with special effects to ground the film, a natural extension of the Marvel Cinematic Universe. "A godsend," says Holland. Combined skills of acting/acrobatic—acquired from playing Billy Elliot on London's West End—was Holland's unique pitch; stunts team incorporated those skills. Keaton's focused intensity unaffectedly inserts menace in the world-weary Toomes. While Tomei plays a younger, hipper Aunt May who is "Peter's conscience."
Spidey's Suit is considered one of history's best graphic designs; costume designer Louise Frogley honored that by working closely with Marvel's "amazing concept/visualization artists." The awesome 2017 version incorporates elements seen only in the comics, and more high tech "bells and whistles – which you might imagine for anything that Tony Stark builds." Vulture's classic villain costume—36-foot wingspan—draws from the MCU, and was updated to make it scarier, more dangerous while respecting Steve Ditko's original Vulture. Working in tandem, the production, design, art, et al. departments maintain the character and tone throughout. Additionally, Michael Giacchino's memorable score, Salvatore Totino's cinematography, and editors Debbie Berman and seasoned Dan Lebental, known for his dedication to the craft.
Spider-Man: Homecoming is an atypical fun superhero flick. The relatable, believable foundation adds a depth to the storyline that audiences can understand, empathizing with the characters. All Spider-Man's cool moves are offset by Peter's stupid ones so by the end, we are itching to learn what happens next. (Marinell Haegelin)