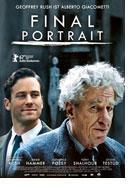 Opening 3 Aug 2017
Directed by: Stanley Tucci
Writing credits: Stanley Tucci
Principal actors: Armie Hammer, Clémence Poésy, Geoffrey Rush, James Faulkner, Tony Shalhoub
While in Paris in 1964, American author James Lord (Hammer) sits for a portrait after Alberto Giacometti (Rush) assures it will only take a few days. Subsequently, over eighteen days Lord numerously postpones his return to New York. He becomes familiar with the artist's household: Alberto's persevering wife Annette (Sylvie Testud), brother Diego (Shalhoub), and Caroline (Poésy). During their hours together and conversations, Lord discovers more about his old friend the perfectionist, obsessive, complex artist. As Diego clarifies to Lord, "… my brother's never happy unless [he is] perfectly dissatisfied." Writer-director Stanley Tucci's basis for his screenplay is Lord's 1965 biography, A Giacometti Portrait.
The Swiss painter, sculptor, printmaker, and draughtsman's distinctive viewpoint saturates Alberto Giacometti's (1901 – 1966) artwork. A leading surrealist sculptor that incessantly reworked pieces, in 1946 he married Annette Arm. He exhibited throughout Europe and achieved international fame after receiving the Venice Biennale's grand prize in 1962. Giacometti's father was a famous post-Impressionist painter, Diego a sculptor and designer, and Bruno an architect. Present-day worldwide exhibitions and his likeness on Swiss currency attest to Giacometti's enduring popularity.
Nudging the film forward is discriminating, variable cinematography (Danny Cohen), with ingeniously edited dialogue/visual interplay (Camilla Toniolo). When music (Evan Lurie) is interspersed, it complements the emotional ambiance. Geoffrey Rush incarnates Giacometti in looks and actions. The cast moves confidently through the surreal landscape; all these aspects keep audiences' attention. By layering background information, akin to Giacometti's sculptures, Tucci could have added depth and breath to the insubstantial plot. Even so, his art-house film demonstrates the legendary artist's work and rich legacy. (Marinell Haegelin)


Second Opinion

This little film is almost Zen-like in its view of artistic creation, the moment of conception and the artist's search for perfection. Alberto Giacometti (Rush) has invited his old friend James Lord (Hammer), a leisure-class American who visits Paris regularly, to sit for a portrait in his atelier in Paris. The agreement is for a single afternoon. When Lord appears he is at first ignored, then pulled into the role of spectator of creative chaos and family tension. Giacometti is besotted with his mistress (Poésy), and his wife (Testud) competes for his attention in the cramped living quarters, where nothing goes unnoticed.
One session leads to another and another. The portrait is begun, abandoned, begun again, painted over, taken up again. Lord is drawn more and more into the enclosed world of the tiny atelier, cancels his return flight after every incomplete session, and despairs that there will ever be an end to the process.
This film is based on a true story published in 1965, A Giacometti Portrait, in which Lord describes the 18 sessions of the portrait-sitting. This portrait turned out to be the last that Giacometti ever did; he died two years after the sessions were completed, and the men never saw each other again. The portrait, which Giacometti gave to Lord, was sold in 1990 for 20 million dollars.
The painting of the portrait seemed interminable to me at times, as did the search for the beginning and the end of the process, but of course it must have been that way for the real protagonists as well. Rush is a different physical type than Giacometti, but the calm intensity of his Giacometti with his unpredictable mood swings (vague, meandering, pouncing, exhausted, irresponsible, ecstatic in love) is a grand achievement and dominates the excellent cast. (Ann Gebauer-Thompson)