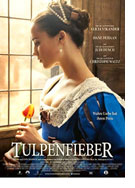 Tulpenfieber (Tulip Fever)
U.S.A./U.K. 2017
Opening 24 Aug 2017
Directed by: Justin Chadwick
Writing credits: Tom Stoppard
Principal actors: Alicia Vikander, Christoph Waltz, Holliday Grainger, Dane DeHaan, Judy Dench
The seventeenth century in Holland is referred to as the Golden Age, a period when the Dutch dominated the European economy through their vast trade networks and churned out impressive painters, such as Vermeer and Rembrandt. Amsterdam, with its incredible wealth, drew artists hoping to find patronage among the city's prosperous merchants who wanted beauty in their lives.
Tulip Fever is set against this backdrop. Cornelis Sandvoort (Waltz), a wealthy merchant, arranges to marry Sophia (Wikander), an orphaned young woman living in an Amsterdam convent. Sophia allows herself to be convinced by the abbess (Dench) that loveless marriage to an older man will provide a secure future, and we see the first years of Sophia's married life trundle along, full of fruitless attempts to conceive an heir. It's clear that she's fortunate, with a doting loud-mouth husband, a luxurious home, and a kind servant she treats like a sister. And yet Sophia feels empty – she has neither passion for her reproductively minded spouse nor a child to fulfill her marriage "bargain" – and she feels empty to the viewer, too: with no personality she's essentially a beautiful woman in a high-collared gown. Her servant Maria (Grainger) fares better in the character-development department, displaying sass with her master and appetite for the fishmonger.
Along comes Jan van Loos (DeHaan), an up-and-coming painter Conelis hires to paint a double portrait of himself and his wife, and all hell breaks loose. The young painter and the unfulfilled wife exchange smoldering glances and begin a dangerous affair. Jan's as flat as Sophia, defined by his poverty and his claim of passion for Sophia, so clearly they're perfect for each other. The pair stumbles into a convoluted plan to elope, one that involves the tulip fever of the title. Jan begins speculating on tulip bulbs, joining the craze for beauty that consumed Amsterdam and created the world's first economic bubble.
But the movie's unnecessary twists make the tulip craze almost irrelevant, and Maria's patchy voice-over narration can't explain away the holes in the plot, especially the last-minute moral about-face that changes the lovers' futures. Tulip Fever is proof that combining luminous veteran actors, like Waltz and Dench, with a celebrated screenwriter like Stoppard, and throwing in gorgeous young bodies tangled in bedsheets doesn't necessarily result in a movie anyone will go crazy for. (Diana Schnelle)


Second Opinion

If this movie is to be believed, then Saturday night on the Reeperbahn today has nothing on the antics on display in Amsterdam during the eighteenth century. The great divide between the rich and poor is clearly contrasted by the quiet orderliness of merchant Sandvoort's house and the bawdiness of life outside his front door.
When his wife and children succumb to the plague Cornelis Sandvoort (Waltz) decides to take a new wife to provide him with an heir. He asks the abbess (Dench) of the nearby convent to find him a suitable candidate. Sophia (Vikander) is the perfect choice because she is young, pious and once she changes out of her orphan's dress into the sumptuous clothes befitting the wife of a rich merchant's wife, beautiful. Cornelis adores his new prize.
Sophia's new lifestyle contrasts with that of her maid of all work Maria (Grainger) whose drudgery is relieved by regular visits from fishmonger Willem (O'Connell.) Sophia's monotonous life is also enlivened when the painter Jan van Loos (DeHaan) is invited to paint a portrait of her with her husband.
The movie is set at the time of Holland's strange obsession with tulips. The flowers were brought from the East to this wealthy trading country and soon tulip bulbs were being sold at rapidly increasing prices. People both rich and poor gambled away dizzying amounts of money by speculating on bulbs. A mutation among the flowers which introduced a second colour was most prized of all. When a striped crimson and white tulip is found in the convent's garden a calamitous series of events begins.
Tom Stoppard's lively script deftly intertwines the two inter-dependent strands of the story. Director Justin Chadwick has made a very enjoyable, fast-paced movie which, despite being filmed entirely in England, has an authentic feeling of life in Holland in the seventeen hundreds. The audience can almost smell the fish, the stench of the canals and the smoke in the trading house. A movie set in eighteenth century Holland is almost bound to be beautiful to look at and this one doesn't disappoint. Tulip Fever is an absorbing movie which is also gorgeous to look at. It is a feast for the senses. (Jenny Mather)


Third Opinion

Nature: beauty, mystery, uncontrollable. No less so than this cryptic historical drama. Based on British author Deborah Moggach's same-titled novel, director Justin Chadwick opens with Maria's (Grainger) VO telling her and Sophia's (Vikander) story entwined with the history of tulips accompanied by fetching animation. St. Ursula's caring and clever Abbess (Dench) secures a good position for one of her charges, telling Sophia, "marriage is a safe-haven," while impressing the importance of giving her husband an heir.
Fast-forward three years, 1634 Amsterdam: Snug in a comfortable marriage, the successful mature Cornelis (Waltz) commissions a double portrait from a young painter (DeHaan). Whereas Maria's passion lies with the fishmonger (O'Connell), the "peppercorn king" unwittingly ignites a disruptive alliance. Concurrently, the obsession for tulips reaches a wheeling-dealing frenzy on the black market. To contain the tide of events, Sophia partakes of Dr. Sorgh's (Hollander) collaboration, and subsequently fate goes under the gavel.
Tom Stoppard's screenplay lacks finesse, a rational timeline, and proportional pacing thereby affecting a disproportionate balance of human interactions with those of the tulip bulbs. Perhaps the reason for the film's delayed release. Still, there are scenes that jar, e.g. a mistaken identity, misplaced trust regarding a vital errand, a character's sudden reappearance. Character portrayals evoke numerous emotive feelings: Dench epitomizes sharp wisdom; Holland a sleazy doctor; Waltz a repentant senior, while Vikander and DeHaan's passion seems perfunctory. Noteworthy though is Simon Elliott's production design, Rebecca Alleway's set decoration, and costumes by Michael O'Connor that transport audiences to a bygone era. With mere mortals masters of the destiny they create there is a reckoning at the end that is worth its weight in… tulips. (Marinell Haegelin)