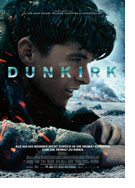 Opening 27 Jul 2017
Directed by: Christopher Nolan
Writing credits: Christopher Nolan
Principal actors: Fionn Whitehead, Damien Bonnard, Aneurin Barnard, Lee Armstrong, James Bloor
"We surround you. Surrender + Survive." are some of the first haunting words used in this close-cut war action film. This threat is displayed on a barrage of flyers raining down on a small group of soldiers seen scavenging for supplies in the deserted streets of the once picturesque coastal town of Dunkirk. Trapped with their backs to the sea and a German army relentlessly closing in them, most soldiers perish from rifle fire within the first minutes.
Written, co-produced and directed by Christopher Nolan, Dunkirk is a breathtaking and thrilling war movie triptych told from: land, air and sea. It opens dramatically with Tommy (Whitehead), a British soldier scampering for his life under fire. Reaching the beach, the scale of the daunting evacuation, called Operation Dynamo, is discouragingly revealed. With little dialog and a stellar multi-generational ensemble cast, Nolan focuses on cinematography and details to recount the bringing of around 400,000 Allied troops to friendly territory in the early stages of WW II.
Recognizable stars like Tom Hardy (primarily wearing a pilot's mask), Kenneth Branagh, and Harry Styles are downplayed to show the "Everyman" reality of war. Accordingly, Nolan insisted on all-British casting to keep his portrayal, which he conceived of more than 25 years ago, authentic. In describing his central notions, Nolan said, "The empathy for the characters has nothing to do with their story. I did not want to go through the dialogue, tell the story of my characters… The problem is not who they are, who they pretend to be or where they come from. The only question I was interested in was: Will they get out of it?…". More authentic still is that Nolan gathered and filmed actual vessels remaining from the historic battle.
We follow the tales of ground troops, fighter pilots, and civilian seafarers as they valiantly rescue as many "sitting duck" soldiers as possible. "There's no hiding from this, son. We have a job to do," are the defiant words of Mr. Dawson, a defiant father of a fallen soldier and one of the many civilian rescuers who used private vessels to ferry those stranded. Friendly fire, shell shock, haphazard accidents are heartbreaking concepts poignantly explored. It's absolutely moving to realistically see what thousands of young men overcame to survive the awaiting doom. Simply surviving was a victory in itself for those thousands.
Dunkirk was filmed with a combination of IMAX® and 65mm film and will be screened in both formats. A riveting soundtrack composed by Hans Zimmer complements the shortest script Nolan has yet written. A modern take on warfare definitely worth seeing–but prepare yourself as it will be from the edge of your seat! (Ericka Seifried)