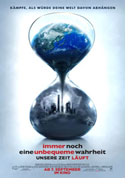 Immer noch eine unbequeme Wahrheit: Unsere Zeit läuft (An Inconvenient Sequel: Truth to Power)
U.S.A. 2017
Opening 7 Sep 2017
Directed by: Bonni Cohen, Jon Shenk
Writing credits:
Principal actors: Al Gore
Al Gore delivers another relevant film since An Inconvenient Truth which won the Academy Award for Best Documentary Feature in 2006. Al Gore travels once again to the glaciers and exposes proof around the world of the dangers of climate change. He touches upon how global warming affects farming and how climate refugees are forced to flee their farms and countries, for example, Syria. And as a result, it creates war. The past Vice-President of the U.S. also shares his story of how he was an integral part in India signing the Paris climate treaty in 2015. India promises to shift from coal to renewable energy sources. The film ended with hope until Donald Trump was elected the 45th President of the United States. Trump has been taped saying he will end the EPA. He does not believe in global warming. But there has been on overwhelming response from other countries that are using solar and wind energy.
An Inconvenient Sequel: Truth to Power hit me personally. My home town of Georgetown, Texas, was visited by Al Gore and made it into the film. The Republican, right-wing town was one of the first cities in the United States to be 100 percent powered by renewable energy. As an American traveling and living abroad, I was embarrassed to say where I grew up; however, I am now incredibly proud to say where I am from. Even a conservative town in Southern Texas can realize the importance of saving our planet and alternative energy sources. (Marlane Wingo Nigbur)


Second Opinion

Where to start, what to show and when? Wise choices were made squeezing over 10-years into 98 minutes. Al Gore gives directors Bonni Cohen and Jon Shenk extraordinary access; we travel the world hearing and seeing evidence of global warming, industrial pollution, and CO2 emissions. "Big money" interference is evident. We benefit from Gore's presentations to Climate Leadership Trainings (CLT) over the years. A technology geek, and environmentalist stretching back to the 1970s, Gore's commentary is humorous, honest, chilling, inspiring during this validating sequel to the Oscar® winning An Inconvenient Truth (2006).
Jeff Beal's music aptly accompanies editors Don Bernier and Colin Nusbaum's skillful maneuverability back/forth over decades. Archival footage includes: the 1968 Apollo 8 and Earthrise photograph; Gore addressing the 1992 UN Rio Summit; international settings with Barack Obama, George W. Bush and Dick Chaney, John Kerry and others. Gore's deep-seated political knowledge comes from growing up in government. Some current governments around the globe sometimes frustrate him and other environmentalists.
Scientific facts connect dots to correlations in nature: rain bombs, droughts, and fires. Visual evidence chronologically shows extreme weather increases the past few years in the USA, Philippines, Latin America, Middle East, et al. Gore's involvement is inconvenient: he brokered a huge deal during the 2016 Paris Agreement, has access to heads of state, and reminds audiences thousands of CLT trainees are now in forefront positions.
After premiering at Sundance, in June the filmmakers reedited the ending to reflect President Donald Trump's withdrawal from the 2017 Paris Agreement. For the powerful, wealthy fossil fuel industry especially, Gore is the toothache they hoped would go away. Instead, "(I) feel deeply what the right thing is, I'm not confused." Checkout the film's website: inconvenientsequel.com; a short Gore presentation is available to download and personalize. "Be inconvenient – your world depends on it." (Marinell Haegelin)