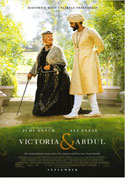 Victoria & Abdul (Victoria and Abdul)
U.K./U.S.A. 2017
Opening 28 Sep 2017
Directed by: Stephen Frears
Writing credits: Lee Hall, Shrabani Basu
Principal actors: Judi Dench, Olivia Williams, Michael Gambon, Simon Callow, Ali Fazal
Victoria & Abdul is a costume drama that reunites the inimitable Judi Dench with director Stephen Fears (the pair worked together on 2013's Philomena). It's also a reunion for Dench with the role of Queen Victoria, which she played in Mrs. Brown (1997). In that earlier movie, Dench portrayed Victoria a few years after the death of her beloved husband Albert, when an intense friendship (and perhaps romance) with a servant, Mr. Brown, pulled her out of a prolonged depression. Mrs. Brown was based on a real relationship with one of Victoria's Scottish servants, and it caused quite a scandal at the British court.
I mention Mrs. Brown because Victoria & Abdul is based upon a subsequent profound friendship between the queen and one of her servants. In 1887, Queen Victoria celebrated her Golden Jubilee, marking 50 years as queen of the United Kingdom. She had also been Empress of India for 29 years, and to commemorate the occasion, Victoria's Indian administrators sent two Indian clerks to England to present "their" Empress with a commemorative coin. One of these men, 24-year old Abdul Karim (Fazal), catches Victoria's eye. Victoria – despite ruling over an empire that included one-fifth of the world's surface and about a quarter of its population – is portrayed as lonely and isolated, superficial, uninterested in her kingdom, bored by her regal duties, and irritated by her children, the eldest of whom, Prince Bertie (Eddie Izzard), waits in the wings for his mother's interminable reign to end. Abdul, who the queen finds handsome and charismatic, is a welcome breath of fresh air, and Victoria immediately engages him as her servant.
If the Royal household had been rocked by Victoria's intimacy with Mr. Brown, they were mutinous over her relationship with Abdul, who becomes more and more entrenched in the Queen's life. Abdul teaches Victoria about India – which she's never visited – introduces her to Indian food, teaches her about Islam, and instructs her in Urdu. As an unofficial advisor on Indian affairs, he infuriates the Queen's official advisors, many of whom are openly racist.
Much of Victoria & Abdul is about how, in contrast to most of Britain's top brass, Victoria is excited to be informed of the "exotic" land within her empire and enthralled by her adored servant's descriptions of India. But this is the movie's downfall. Despite an excellent and surprisingly funny performance by Dench, the movie is all surface when tackling the meaty issues of colonialization, racism, and class relations. It's an enjoyable movie, don't get me wrong, but it's heavy on Indian window-dressing, and ultimately what holds it together is watching Judi Dench embody the role of Queen Victoria. Go for fun but not for historical depth. (Diana Schnelle)


Second Opinion

Downton Abbey fans take heart: the nostalgic, glossy world of the imperial British Empire is alive and well. Dame Judi Dench is as enchanting as ever as Queen Victoria, a role she has revived from her 1997 film Mrs. Brown. Once again she plays (an even more) aging monarch who strikes up in inappropriate friendship with a commoner. She has moved on from the kilt-clad Scotsman John Brown to the turban wearing Indian Abdul Karim, played by the strikingly tall, dark, and handsome Ali Fazal. Their eyes first meet (quite forbiddenly) at a banquet celebrating her golden jubilee. She lonely and bored until the 24 year old clerk sent from India presents her with a ceremonial golden coin. Suddenly life is worth living again. Soft-spoken Abdul becomes her royal advisor (her munshi), and teaches her Urdu, quotes the Koran, and introduces her to an exotic fruit, the mango.
Screenplay writer Lee Hall gave the queen and her detestable son Bertie (Eddie Izzard) all the good lines while leaving Abdul only the crumbs. Who was Abdul really? If you are looking for a bit of fun and not a historical social critique, just put on your rose colored glasses and you will find Dame Judy Dench an irresistible delight. (Pat Frickey)


Third Opinion

Some stories seem too absurd to be true and this is one of them. The audience is told that Victoria and Abdul is "based on a true story…..mostly" and you must take it with a pinch of salt.
Young Abdul (Fazal) is a lowly clerk in the Indian prison service but he is chosen to travel to London with Mohammed (Akhtar) to present a medal to the Empress of India. She, of course, is Queen Victoria and the gold medal has been specially cast to commemorate her golden jubilee. The two duly arrive at the palace and are met by Sir Henry Ponsonby (Pigott-Smith) the toady who is head of the Queen's household. Sir Henry soon has the bewildered youngsters kitted out in an idealised version of an Indian uniform and informs them that they are to present the medal during a dinner party.
It is difficult for modern audiences to understand the reverence in which Queen Victoria was held, but Judi Dench's performance of the spoiled, tetchy old woman is masterful. The two young men approach her as she greedily attacks her food and Abdul piques her interest. The pair strike up a friendship which lasts until her death more than ten years later. Abdul is an opportunist who has everything to gain from currying (no pun intended) favour with the bored, lonely old woman and she, in turn, is relieved to escape from the tedium of court etiquette and enjoys learning about the empire she rules over. The friendship between the unlikely pair is viewed with horror by the members of her household staff. The Queen is head of the Church of England and Defender of the Faith, but she is taking great interest in the Koran and is learning Urdu. She invites Abdul's wife to join him in London and she asks the members of court to dress up in Indian costume for a Tableau Vivant. Bertie (Izzard), the heir to the throne, is as upset as everyone else and wants to suppress knowledge of the unlikely friendship from becoming public knowledge. (He succeeded, too until the publication of the book more than a century later.)
Lee Hall's screenplay is based on the book Victoria and Abdul: The True Story of the Queen's Closest Confidant by Shrabani Basu. Queen Victoria's seaside home on the Isle of Wight was used for much of the filming and the spectacular but rainy scenery of Scotland provided the rest. The acting, the costumes and the locations in this movie are impeccable but Judi Dench is outstanding. Her performance as Queen Victoria is the reason to see this movie and it saves the preposterous story from banality. (Jenny Mather)