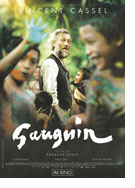 Gauguin (Gauguin - Voyage de Tahiti)
France 2017
Opening 2 Nov 2017
Directed by: Edouard Deluc
Writing credits: Edouard Deluc, Etienne Comar, Thomas Lilti, Sarah Kaminsky, Paul Gauguin
Principal actors: Vincent Cassel, Tuheï Adams, Malik Zidi, Pua-Taï Hikutini, Pernille Bergendorff
Paul Gauguin (Cassel) is down and out in the Paris of 1891 in the opening scenes. This Paris is familiar to us all and downright teeming with everyone's artistic cliché: the wretchedly poor in the narrow streets, the prostitutes, the impoverished artist Gauguin begging for attention from a tight-fisted but sympathetic agent, Mallarmé giving farewell toasts in the bar.
Luckily we can soon leave all that behind us when Gauguin leaves his wife Mette (Bergendorff) and his five children in France and departs for Tahiti. As we know from Gauguin's own travel epos of his time in French Polynesia, Noa Noa, which formed the core of the script, he is on a quest for the ideal of the gentle savage: a more natural, sensual and instinctive way of living, a perception unadulterated by commerce and the dictates of church and state.
Director Deluc has stated that he was aiming for this film to be an adventure story, a kind of Polynesian western. And so Gauguin forges his way into the mountain terrain on horseback, set on finding the true Tahiti. In a remote mountain village he forms a connection to a young village girl, Tehura (Adams), and she becomes his muse. Tehura is the key figure for the development of this drama; she embodies the physical beauty and generosity of the native Tahitian culture and its problematic entanglement with the missionary culture. I found Adams perfect for this role of the quiet young muse.
Gauguin tries new artistic techniques, rejects tourist commercialism and colonialism, and is willing to sacrifice his own health for the sake of artistic integrity. Cassel succeeds brilliantly in showing Gauguin's tenacious hold on his own values against all odds. Yet he remains troubled and possessive of his muse and in many ways conflicted. In real life this period of his life was most productive artistically, and resulted in 66 major paintings and a wealth of carved objects which went on to change the course of art history.
I think this is a film well worth seeing, especially to anyone interested in the history of art and the land and culture of French Polynesia. (Ann Gebauer-Thompson)