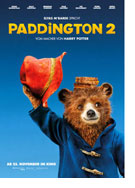 Opening 23 Nov 2017
Directed by: Paul King
Writing credits: Michael Bond, Jon Croker, Simon Farnaby, Paul King
Principal actors: Ben Whishaw, Hugh Grant, Hugh Bonneville, Sally Hawkins, Michael Gambon
What constitutes a film that families, hipsters, oldsters, and even skeptics will want to see? One chock-a-block full with lovable characters—even the rascals, intriguing who-done-its, and mischievous merriment. At its heart is a cuddly, endearing lil' Peruvian brown bear (again Ben Whishaw's pitch-perfect voice) living in West London. The stellar ensemble, before and behind the camera, is largely reassembled from Paddington (2014) based on author Michael Bond's children series fictitious character. Anyone that missed it is quickly brought up to date in Paddington 2.
Now happily secure in the Brown household (Bonneville, Hawkins, Julie Walters, Madeleine Harris, Samuel Joslin), Paddington is beloved by the Windsor Gardens community, a mongrel, and most neighbors. Exempt is a misguided community watch zealot (Peter Capaldi), and the aging narcissist slight-of-hand actor Phoenix Buchanan (a campy Grant shines).
Essentially, Paddington finds the ideal 100th birthday present for Aunt Lucy (again Imelda Staunton's soothing voice) at Mr. Gruber's (Jim Broadbent) antique shop. Her motto, kindness prevails, is Paddington's guiding light. Choosing a one-of-a-kind pop-up book arouses the suspect neighbor's attention. Phoenix devises, then hatches a plan that inadvertently lands Paddington in prison. Where, his face-off with the hardened Knuckles (Brendan Gleeson is wickedly comic) has ricocheting results. Meanwhile, on the outside the Brown bunch strives to gain Paddington freedom. Their surprising findings culminate during a hair-raising train ride after steaming out of Paddington station.
Kudos to the production/art departments and animation/CGI (character-generated imagery) teams that lavish audiences with visual magic and gizmos: chutes, hooks, rope pulleys, chains and grinding metal wheels, and unquenchable imagination. One favorite scene is Paddington envisioning traveling with Aunty through the pop-up book's sites. Considering the minutia detailing, plethora of cameo appearances, and gags delivered with British understated aplomb it is impossible to catch everything in just one viewing. Our furry friend's faithfulness to Aunt Lucy's philosophy is most bearable: treat others, as you would like to be treated—a message befitting current times. Just as, the extravaganza just before main end credits is uniquely grandiose. (Marinell Haegelin)