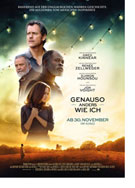 Genauso anders wie ich (Same Kind of Different as Me)
U.S.A. 2017
Opening 30 Nov 2017
Directed by: Michael Carney
Writing credits: Michael Carney, Alexander Foard, Ron Hall, Denver Moore, Lynn Vincent
Principal actors: Renée Zellweger, Jon Voight, Greg Kinnear, Djimon Hounsou, Peyton Wich
A true story, brilliantly produced from a book by Ron Hall, Denver Moore and Lynn Vincent.
The story begins with a couple who after many years of marriage have lost each other. The husband Ron (Kinnear) makes a mistake that could cost him his marriage. His wife Debbie (Zellweger) gives him a choice. What Ron and Debbie don't realize is that the choice they both make - to save their marriage - results in something bigger than them. Their lives and those of many others change forever when they befriend a homeless, hopeless, dangerous man. This man, Denver (Hounsou) shares his past with the couple and they embark on a remarkable future together.
The character-driven acting was insightful and delivered without any bells and whistles. A film where you get to know and understand the individuals: Ron, Debbie and Denver.
A quietly sad and heartwarming story that will make you cry but also reflect on what more you can do, who you could reach out too. This film is about much more than a marriage in trouble, it is about human kindness and the ability to see past the cover of others. Indeed Denver Moore expresses it well, 'Everyone is different, some the same different as me'. Changing our world by acts of kindness should be easier; hopefully this film will add more kindness to our world encouraging all of us to act. (Christine Riney)


Second Opinion

This movie is based on the true and inspirational story of Debbie Hall (Renée Zellweger) a woman whose selflessness and charitable spirit leads her to want to make a change in her community, specifically with the homeless community in Dallas, Texas. She learns of her husband Ron's (Greg Kinnear) adultery, doesn't divorce him, but decides to repair their bond and insists that he join her in volunteering at a local mission to bring a common purpose back to their marriage. A vision of a "poor, wise man, who changes the city" comes to her one night in a dream, and when she later sees this man at the mission, she is hell-bent on helping him at all costs. Even once she is diagnosed with terminal cancer, she relentlessly helps others by providing meals, blankets, clothes, hygiene training and makeovers at the mission. She recruits others, and with the help of her husband, Ron, they are able to make improvements to the mission, and ultimately, a new facility was built in her name. After her death, Ron and Denver Moore, the man from her dream (Dijmon Hounsou) continue to support each other and collectively work to positively impact the lives of thousands of homeless and underemployed people in the area. They even co-author the story of their intertwined lives.
This is the fact-based portion; an actual review of the movie is another thing altogether.
Ron Hall's book's full title, Same Kind of Different as Me: A Modern-Day Slave, an International Arts Dealer and the Unlikely Woman Who Bound Them Together, says it all. Whoa! It tells the story of an unlikely friendship between an affluent art dealer and a once-ill-tempered homeless man, brought together at the coaxing of the former's wife, who he's trying to ingratiate himself to after an affair. And once published, the book remained on the New York Times' Bestseller List for nearly three years--and rightfully so. That said this is a remarkable story that should have been left to libraries, faith-based bookstores, and book club reading lists. A story about human kindness, forgiveness, and faith that actually never needed to be made into a movie. Well, maybe for the Hallmark Channel.
Kinnear seems unbelievable and weary from the very start, and Zellweger is equally frail to the eyes and ears -- a Texas native whose accent seems off, how can this be? In fact, all the accents seem painfully artificial and strained. Thankfully, there's that gorgeous, sprawling, Tuscan-inspired mansion, the picturesque flashbacks to antebellum Louisiana where Denver was born and raised, and Denver's three monologues which save the film, albeit incompletely. The most memorable and profound of the speeches happens at Debbie's funeral where Denver delivers a touching eulogy about how "whether we [are] rich or poor, we are all homeless, just working our way back home." True.
With its cast of Hollywood heavy hitters and an opulent set, this $6-million-dollar budget might have been better spent in the transient community that Debbie Hall worked so tirelessly to improve before her untimely death. I even did more research about the real people to avoid being self-righteous. And in some ways, that made my initial pangs all the more justified. I am certain, this is more than a story about an angelic woman posthumously changing the lives of her loved ones, but this movie does little to convey it. The audio clips, historical footage, and photographs bring a bit more heart to the story. The only question that remains unanswered is: who paid for this and pushed it through production?...and why? (Ericka Seifried)