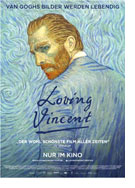 Opening 28 Dec 2017
Directed by: Dorota Kobiela, Hugh Welchman
Writing credits: Dorota Kobiela, Hugh Welchman, Jacek Dehnel
Principal actors: Robert Gulaczyk, Doughlas Booth, Eleanor Tomlinson, Saoirse Ronan, Helen McCrory
Dorota Kobiela and Hugh Welchman's groundbreaking interpretation breaths magic in animated filmmaking. The story's backbone by directors-co-writers—with Jacek Dehnel—about Dutch artist Vincent van Gogh's (Gulaczyk) last days is well-known oil paintings. Van Gogh lived to create, to paint, which the directors' respect. Over 100 fine artists—versus trained animators—applied detailed brushstrokes to motion-captured images – the recording of human actions that become digital character models. Capturing even facial expressions, i.e. actors' are recognizable, of 65,000 frames hand-painted on canvass, less than 1000 were used. Exquisitely executed, Loving Vincent pulls audiences in its majestic canvases.
Armand Roulin's (Booth) postmaster father (Chris O'Dowd) gives him an unenviable task. Deliver Vincent's last letter to Theo, which is frustratingly undeliverable now both are deceased. Joseph provides perplexing background particulars; finally, Armand agrees. Calling on Père Tanguy (John Sessions) Armand hears about the Van Gogh family and the brothers unbreakable bond. Paris was merely Vincent's stopping-over place; at Arles in southern France he broadened his pallet with color and subject matter. The storyline's present-day frames mimic Van Gogh's Arles style; Flashbacks are snapshot-realistic in his early somber palette.
When the housekeeper (McCrory), openly contemptible of Vincent, tells Armand Dr. Gachet (Jerome Flynn) is away from Auvers-sur-Oise on business the only recourse is to stay over. His inn of choice also housed Vincent before his suicide. Interpretations, intrigues abound. Pleasant temporary innkeeper Adeline Ravoux (Tomlinson) liked yet thinks Vincent's death baffling, Marguerite Gachet (Ronan) is illusive, Doctor Mazery (Bill Thomas) skeptical, the village idiot (Joe Stuckey) pesky, the boatman (Aidan Turner) and Gendarme (Martin Herdman) informative. Meeting finally, Dr Gachet and Armand reach an agreement with an unexpected, surprising result.
Among Van Gogh's selected canvasses are: Portrait of Père Tanguy, 1887; Portrait of the Postman Joseph Roulin and The Night Café, 1888; The Starry Night and Self-Portrait, 1889, and Dr. Paul Gachet, 1990. Clint Mansell's poignant music accompanies matching swirling movements by Tristan Oliver, Lukasz Zal (camera), and Dorota Kobiela, Justyna Wierszynska (editing). German dubbing is good; film is a tic too long.
Credits showing oil paintings with corresponding actors reveal: individual's further endeavors, from more than eight hundred oil paintings in eight bountiful years Vincent sold none, and quotes of Vincent's. Whereas people worldwide now recognize the artist, few know he was equally prolific with words. Fame came late—early 20th century—yet many now deem Van Gogh the father of modern painting. Do see this history-making biographical-cum-mystery animation tribute to its history-making protagonist. Afterward you will love Vincent, too. 95 minutes (Marinell Haegelin)