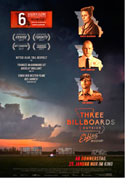 Three Billboards Outside Ebbing, Missouri
U.K./U.S.A. 2017
Opening 25 Jan 2018
Directed by: Martin McDonagh
Writing credits: Martin McDonagh
Principal actors: Frances McDormand, Woody Harrelson, Sam Rockwell, Caleb Landry Jones, Kerry Condon
Sometimes, the familiarities of our surroundings give us the best ideas. Seven months after her daughter's gruesome death, Mildred (McDormand) – thinking everyone has forgotten, moved on –rents three dilapidated billboards on the idle Drink Water Road. Red (Jones) quickly accepts her money; its yearlong contract guarantees maximum profits. His stroke of luck is short lived, though.
Officer Jason Dixon (Rockwell) has a conniption fit when he spots the billboards. Sheriff Bill Willoughby's (Harrelson) reaction is restrained – he has the department to run, and weightier things on his mind. Even Robby (Hedges) questions mom's decision. Willoughby tries reasoning with Mildred; the mollycoddled Dixon, and Mildred's ex (Hawkes) strike out as well. Mama Dixon (Martin) proffers ideas to junior, as tensions mount in the community. Sides are taken, and accidents happen. A friend (Dinklage) tries to help, but Mildred is at the breaking point and wants results.
Three Billboards Outside Ebbing, Missouri is a juicy, darkly humorous study of human nature and interpersonal relationships, especially when wrapped up in a small community. Portraying the characters' complexities is: consummate actors McDormand (Oscar®) and Harrelson (Oscar® nominated) superbly nuance expressions and gestures conveying far more to the lines they deliver. Rockwell is stunning as Willoughby's second-in-command: unabashedly unripe, yet easily provoked. As Mama, the catalyst to setting Jason off, Martin is powerful. Supporting cast are top-notch: the desk Sergeant / Zeljko Ivanek; good-hearted twit Penelope / Weaving; Angela / Kathryn Newton, Father Montgomery / Nick Searcy, Jerome / Darrell Britt-Gibson et al.
With this force at his fingertips, Martin McDonag's (Oscar®) direction is good, solid all the way through. He measuredly makes points: Penelope's surprising Charlie with Robby and Mildred in his ex's kitchen is a stroke of comic/tragic genius; and the scene when Mildred phones thrice before taking action underscores what her intentions did not include. Ben Davis' cinematography is absorbing, and Jon Gregory edits to a small-town's pace. Splendidly converting Sylva, North Carolina to Ebbing, Missouri is Inbal Weinberg's production design, Merissa Lombardo's set decoration, and Jesse Rosenthal's art direction. Carter Burwell's music aptly matches the tempo and texture.
Three Billboards' unpredictability catches audiences nicely unawares whenever the storyline undertakes a ninety-degree switcheroo. It is from Sheriff Bill, and flashbacks, that the total picture emerges. People sometimes know each better than the other expects, making for strange bedfellows. After realizing the self-destructive nature of anger, why then… "We can decide along the way." (Marinell Haegelin)


Second Opinion

Mildred Hayes is driving along the forlorn country road which leads to her home. She stops, gets out of her car and looks up at three billboards standing high by the side of the road. It's years and years since the billboards were last used and scraps of old advertisements are peeling off them. Even so, Mildred has an idea, one which will turn the dreary little town of Ebbing upside down.
Something truly, truly unspeakable happened on this road seven months earlier but Mildred feels that the local police department failed to investigate it thoroughly. She plans to have three provocative statements written on the billboards hoping to shake the police chief and his department out of their complacency and return their attention to solving the crime.
Frances McDormand is superb as Mildred and her performance must surely lead to an Oscar nomination. She is in almost every scene in the movie and displays Mildred's bitter grief, her quiet dignity and her heroic determination to find justice in every expression and every movement. Police Chief Bill Willoughby is a good ol' boy played to perfection by Woody Harrelson. The chief is outraged by Mildred's plan because he knows that his team did all it could to try to solve the crime. The chief sympathises with his old friend but cannot condone her behaviour. Besides, he has two other problems to cope with, one of which is in his department. Police Officer Jason Dixon (Sam Rockwell) is a racist oaf who feels that all problems can be solved by violence.
These three actors all shine in Martin McDonagh's witty, fast moving black comedy, which was given a ten minute standing ovation by the audience at this year's Venice Film Festival. The writer-director who gave us the delightfully funny swearfest, In Brugges, once again displays his originality (and wide command of foul language) in this movie. Three Billboards in Ebbing Missouri is a quirky title for a quirky movie, a movie whose theme is turns out to be about redemption. Three Billboards may be set in Missouri but it was filmed in Asheville, North Carolina, where the visual splendour of the Blue Ridge Mountains adds a further dimension to the movie. The mountains tower over the bleak little town but they also shelter it and offer protection to its residents. (Jenny Mather)