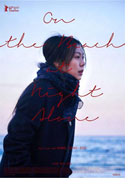 On the Beach at Night Alone (Bamui haebyun-eoseo honja)
South Korea/Germany 2017
Opening 25 Jan 2018
Directed by: Sang-soo Hong
Writing credits: Sang-soo Hong
Principal actors: Min-hee Kim, Young-hwa Seo, Jae-yeong Jeong, Seong-kun Mun, Hae-hyo Kwon
Famous actress Younghee (Kim) flees her native Korea after an affair with a married man becomes public. Surprisingly Younghee's chosen place of exile is a wintery Hamburg where a rather mousy friend Jeeyoung (Seo) lives. During many long walks and drunken meals, Younghee soul searches the meaning of life and reveals her inner torment.
Although Min-hee Kim won a Silver Berlin Bear for her performance in this film, her 'poor me', self-centered character gets tiring after a while. Perhaps knowing that this could be captioned with 'based on a true story', as Sang-soo Hong and Min-hee Kim are in real life having an extra-marital affair, audiences might be more sympathetic to her melancholy, or maybe not. (Christine Riney)


Second Opinion

Kim Minhee won the silver bear award in the category of best actress for her leading role in this film at the 2017 Berlinale. Young actress Younghee (Minhee) is involved in an affair with a married director in Seoul, and she has fled to Hamburg to escape the ostracism of Korean public opinion and to recover her inner equilibrium.
The scenes filmed in Hamburg (long walks in the Stadtpark in winter, the Elbe beach, meetings in apartments in Winterhude and Hoheluft) are highly poetic and empathetic. Younghee is introverted and wounded, and her conversations are tentative, quiet and careful. At this moment in her life her career and her life have been put on hold. And so she lets the whole situation settle and draws from the beauty of nature in a far-off place to heal herself. That this place is Hamburg is a special treat for those of us who live here.
Back in Korea Younghee meets friends and colleagues in cafes and apartments. Here it becomes clear what a huge scandal an affair with a married man is in this society. I found the long conversations highly interesting from a cultural standpoint. The tempo is slow, each person respecting the dignity of the other, avoiding eye contact while indirectly alluding to the difficult situation, word by word, phrase by phrase. We are far more direct in our conversations in Germany, and these dialogues were a lesson in Korean etiquette for me.
This film opens a door to the norms of an Eastern society. It is like a long deep breath of fresh air in a quiet space. (Ann Gebauer-Thompson)