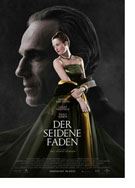 Der Seidene Faden (Phantom Thread)
U.S.A. 2017
Opening 1 Feb 2018
Directed by: Paul Thomas Anderson
Writing credits: Paul Thomas Anderson
Principal actors: Vicky Krieps, Daniel Day-Lewis, Lesley Manville, Sue Clark, Joan Brown
It is London in 1955, and in the opening scene a young woman sitting in a brocade armchair smiles happily to her unseen interviewer. There is a golden glow from the fire. She explains how incredibly demanding and unreasonable her partner is most of the time. A puzzle -- why doesn't she look angry?
Cut to the stark daylight of an old-fashioned bathroom. We see a thin elderly man trimming his nose hairs and pulling up his garters. Could this ugly man possibly be the partner of that beautiful glowing girl? A paradox, as it turns out -- this man's obsession is beauty; he is couture designer Reynolds Woodcock (Day-Lewis). Woodcock lives in a narrow but elegant Georgian town house on Fitzroy Square in Mayfair, and his workshop and showcase are up the winding stairs in the same house. His sister Cyril (Manville) rules over the house.
From the beginning the atmosphere is intense, puzzling, complex. Indoors there are stairs and doors, and everywhere there are unseen laws. The story of Alma (Krieps) and Woodcock unfolds with one of those laws, the breakfast ritual.
Alma, an immigrant waitress, meets Woodcock in a seaside café when she takes his drawn-out order for an intricate breakfast. This is a scene of raised eyebrows and pauses and the meticulous arrangement and clutter of many tiny little plates. From the beginning the relationship of these two is all point and counterpoint. Their immediate attraction is palpable -- he asks her out, and they enjoy a wild ride through the open landscape in his racy red convertible. They sneak into his house and she is hooked on the beauty of his designs and the silky fabrics. Alma is there to stay.
I was reminded of the gothic Hitchcock more than once, and not only in the convertible or on the spiral staircase -- when young Alma meets up with Woodcock's severe sister, Cyril looks and acts like Mrs. Danvers reincarnated. The power struggle of Alma in a triangle with Woodcock and Cyril unfolds, and as in Rebecca at no point can we be sure of what we are about to see.
This is a rich gothic suspense story, a costume drama with fabulous design and lighting, and Daniel Day-Lewis in his (supposedly) last film role. (Ann Gebauer-Thompson)