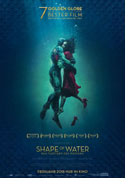 Shape of Water - Das Flüstern des Wassers (The Shape of Water)
U.S.A./Canada 2017
Opening 15 Feb 2018
Directed by: Guillermo del Toro
Writing credits: Guillermo del Toro, Vanessa Taylor
Principal actors: Sally Hawkins, Octavia Spencer, Michael Shannon, Richard Jenkins, Michael Stuhlbarg
What is the shape of water? Why, love, loss, and a monster. And pliability, of course. Guillermo del Toro, director- co-writer (with Vanessa Taylor) confidently weaves a magical, mystical net so visually sumptuous it will make your eyelashes curl. As with any allegory, there is a villain, a moral, and a symbol, plus our desire for good to triumph over evil.
A quiet, good-hearted woman's daily routine revolves around helping others, begetting their wanting to help her. Zelda (Spencer) talks constantly to Elisa (Hawkins)—a very good listener—weekdays during their dull work at the lab. Until, an extraordinary experiment arrives at the high-security American government facility with the callous, pitiless Strickland (Shannon) in command. Robert Hoffstetler (Stuhlbarg) advises other scientists be vigilant; the raging Cold War and high-priority necessitates speediness. Sent to the off-limits space, Zelda and Elisa stumble on the research's uniqueness (Doug Jones). Subsequently, Elisa and the creature develop a special connection. High stakes and time-pressures force Elisa's confronting trusted neighbor Giles (Jenkins) for artistic help. Unforeseeable circumstances spill over into a canal releasing mythical enchantment.
Del Toro's films – The Devil's Backbone 2001, Pan's Labyrinth 2006, Hellboy 2004 and Hellboy ll 2008, Pacific Rim 2013 – have unmistakable distinctiveness. For maximum emotional effect there is: metaphorical, dark yet wonderful double plot lines; corresponding tumultuous world events; moralistic complexities, and saints to rogues gallery of characters with brutal nemesis'. Working with legendary "Godfather of Makeup" Dick Smith instilled in Guillermo a keen sense for realistic physical interpretations for otherworldly characters.
Fantastical production and art design (Paul D. Austerberry, Nigel Churcher), sets (Jeffrey A. Melvin, Shane Vieau) and costumes (Luis Sequeira), et al. bring Del Toro's fairy-tale world stunningly alive. The Shape of Water cast excels; a "stairway to the stars" dance scene puts La La Land's to shame. Alexandre Desplat's evocative music is superb, Dan Laustsen's cinematography first-rate, and Sidney Wolinsky's editing crisply incorporates nostalgic (archival) pop culture. Guillermo del Toro is a devil for original, superb filmmaking with universal entertainment appeal that justifies a second viewing to fully appreciate. So, be a devil and see it again. (Marinell Haegelin)