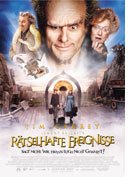 Lemony Snicket's Rätselhafte Ereignisse (Lemony Snicket's A Series of Unfortunate Events)
U.S.A. 2004
Opening 27 Jan 2005
Directed by: Brad Silberling
Writing credits: Daniel Handler, Robert Gordon
Principal actors: Jim Carrey, Emily Browning, Liam Aiken, Billy Connolly, Meryl Streep
Starring Jim Carrey, Meryl Streep, Billy Connolly and more, as well as the narrative voice of Jude Law, this dark, children's adventure is directed by Brad Silberling. The screenplay is by Robert Gordon and is based on three books by Lemony Snicket (Daniel Handler): The Bad Beginning, The Reptile Room and The Wide Window.
The wealthy and talented Baudelaire children – Violet (Emily Browning), an inspired inventor; Klaus (Liam Aiken), an avid reader; and Sunny (the twins Kara and Shelby Hoffman), a consummate biter – are orphaned as the result of a mysterious fire that destroys the family home. Their closest relative is an obscure count – Count Olaf (Carrey) – who takes them under his wing; or rather puts them under his thumb. It is immediately obvious that he's only out for their money and, while waiting to be named their official guardian, he treats them like his personal slaves. However, the children are rescued from his machinations and sent from one charming replacement – Uncle Monty Connolly) a herpetologist – to another – Aunt Josephine (Streep), an eccentric lover of the written word. Yet Count Olaf reappears time and again, always disguised in some new character who manages to dupe all but the children. As they are moved from one new home to the next, they stumble across a series of clues – a spy glass, newspaper cuttings about fires, and photographs – indicating a curious thread that brings all these people together. Will the children manage to discover and expose their parent's murderer?
Interestingly enough, the story line of this movie is extremely straight forward and obvious; yet the acting, sets and costumes well make up for this weakness. At first I would not have recognised Carrey if I hadn't known it was him. Count Olaf and the subsequent personas he takes on are brilliantly performed. Meryl Streep shines and Billy Connolly is always a favourite of mine. The setting is dark Victorian, but with an unusual and effective use of modern day paraphernalia, such as a remote-controlled car key and a walkie talkie.
The movie makes for good family entertainment, though probably too scary for younger children. I would suggest as of six or seven years. (Osanna Vaughn)