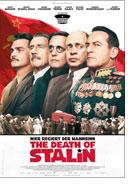 Opening 29 Mar 2018
Directed by: Armando Iannucci
Writing credits: Armando Iannucci, David Schneider, Ian Martin, Peter Fellows, Thierry Robin
Principal actors: Steve Buscemi, Simon Russell Beale, Jeffrey Tambor, Michael Palin, Paul Whitehouse
On March 5, 1953, Joseph Vissarionovich Stalin died at his dacha in Russia. However, this narrative begins hours earlier: Concurrently Radio Moscow broadcasts a Mozart orchestral performance, and Stalin (Adrian McLoughlin), the General Secretary of the Central Committee-cum-Premier of the Communist Party of the Soviet Union spends an evening with his minister generals, who jockey for favor and sway. When Stalin is later discovered unconscious, the ministers' struggles ramp up amidst treacherous deeds, corruption, paranoia and fear. Stalin's children (Andrea Riseborough, Rupert Friend), a discontented concert pianist (Olga Kurylenko), and disaffected Army Chief (Jason Isaacs) add to the mayhem as Stalin's corpse is readied for, and then during his state funeral. At stake is the ultimate title—Premier—with its accompanying control and power that will decide the nation's fate.
Based on the same-titled French graphic novel by Fabien Nury and Thierry Robin, director Armando Iannucci's creatively wicked interpretation take mickey out of political intrigues and posturing. Obviously having fun is the all-star cast: Steve Buscemi, Simon Russell Beale, Jeffrey Tambor, Michael Palin, Paul Whitehouse, Paddy Considine, Dermot Crowley, Richard Brake, et al. depicting their characters' peculiarities, antics, and with the dialogue. Peter Lambert's editing separates the conspiracies into parallel storylines shot by Zac Nicholson and accompanied by Christopher Willis' compelling music.
Some Russian officials have voiced disapproval, and considered banning this film, apropos Mathilde, 2017. Stalin, an exceptional politician of conflicting contrasts, in death is as controversial as in life; equally, the blackly comedic film contrasts satiric burlesque with truths. Perhaps this spin of that period of history is to remind audiences if it happened once, it can happen again. 107 minutes (Marinell Haegelin)


Second Opinion

The year is 1953 right before and after Stalin's sudden death. The Russian politburo goes from years of Stalin's strict and brutal control by fear to chaos after the ruthless but revered dictator's untimely demise. Panic, dirty politics, torture, executions and intrigue are the rule of the day. It's a "dog-eat-dog" race to see who will take control. This doesn't sound like material for a hilarious comedy. However, this is exactly what the director, Armando Inannucci, achieved in his black humor satire, The Death of Stalin. As he had already proved in his extremely successful English TV series, In the Thick of it, as well as in his movie, In the Loop, he is a master at maintaining that delicate balance between tragedy and comedy. However, this time it is a TRUE story; he has based his film on real people and on one of the bloodiest periods in world history. Scene after scene Inannucci was able to make us laugh while still sustaining that underlying theme of fear and tragedy. We, the chuckling audience, would suddenly feel almost guilty when the terror of the events abruptly reminded us of the underscored horror. One such scene was right at the film's beginning when Stalin calls a radio station and asks them to send him a recording of the Mozart concert that he had just enjoyed. Pandemonium breaks out. Nobody recorded the concert! For fear of being imprisoned or worse, the producer (Paddy Considine) scrambles to find another conductor after the original one faints in terror and knocks himself out. He finally drags a conductor out of bed to direct the orchestra in his pajamas and since some of the audience has already left, he simply grabs some people off the street.
Not only is this historically based film brilliantly told but the total lineup of stars is also perfectly suited to their Russian counterparts. Surprisingly, the cast keeps their diverse English accents instead of faking a uniform Russian one. This way not only the universal character of the theme is emphasized, but also the different dialects point out that the members of Stalin's cabinet came from different regions within the Soviet Union. Iannucci made an ingenious choice in casting Steve Buscemi as the manic but calculated Khrushchev against the cold-calm wickedness of the secret police chief, Laventiy Beria (Simon Russell Beale). Jeffrey Tambor as the vain yes-man, Georgy Malenkov, also does a superb job of bumbling through his duties as the placeholder General Secretary and Jason Isaacs as the belligerent action man, Field Marshall Georgy Zhukov, steals a couple of scenes as he teams up with Khrushchev to battle and defeat the scheming Beria.
Iannucci said in one of his interviews that his goal was not only to entertain but also to take his audience out of their comfort zone; that is, to tell them, "DON'T LET IT HAPPEN AGAIN!" This Iannucci certainly accomplishes and, believe me, his film is worth the discomfort! Be sure to see it! (Karen Schollemann)