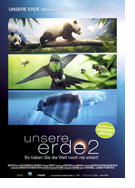 Unsere Erde 2 (Earth: One Amazing Day)
U.K./China 2017
Opening 15 Mar 2018
Directed by: Richard Dale, Lixin Fan
Writing credits: Frank Cottrell Boyce, Richard Dale, Geling Yan
Principal actors: Robert Redford, Jackie Chan, Günther Jauch
This documentary contains amazing sights you will never see if not for BBC Earth Films in co-production with China's SMG Pictures. Entering from space, we travel together with the rising sun between continents encountering numerous members of Mother Earth's family—fauna, fish, foul, and mammals. Günther Jauch delivers a humorous, educational, intimate, and deadly serious accompanying narrative.
Never dull, there are only breathtaking, stupendous marvels: a Panda mother and baby foraging in China's wild, a Panamanian male sloth's quest for love, Galapagos marine iguana hatchlings running for their lives, and napping sperm whales hanging in the Artic Sea. Ah, natures memorable wonders.
At twilight activities alter: Hungary's male mayflies frantically mate, just as China's White-Headed Langurs bounds up cliff walls to take sanctuary. Nocturnal mammals, glowworms, vegetation, and predators natural rhythm wakes them. Leaving as we entered, at night from space, earth is a spectacular light show made by two-legged mammals, humans.
Earth's (2007) sequel, with Richard Dale, Lixin Fan and Peter Webber directing, was in production three years. Filming in 22 countries during 142 days camera teams were able to capture 38 species, yet animals attacked nobody. Furthermore, filming the zebras took 22 days; 31 for an Eurasia harvest mouse; 30 for giraffes; 8 days and 3 cameras for never-before-filmed Galapagos-Racers; 20 for hummingbirds, and the rare White-Headed Langurs; and using time-lapse photography, 21 days in a bamboo forest. Editor Andi Campbell-Waite was undoubtedly ängstlich deciding which incredible footage to cut. A Chinese orchestra, enhanced at times by a choir, performs Alex Heffes' music.
Understandably, BBC recycles some footage from its 2016 television series; introducing unique species from other continents would have been appreciated. Nonetheless, this inspirational film reminds us what a joy being part of this stunning planet is. A genuine respite from current global realities, perhaps it is as well to cue humans: many species shown conservation status is threatened to critically endangered. "If you want to go fast, go alone. If you want to go far, go together," –African proverb. (Marinell Haegelin)