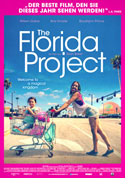 The Florida Project
U.S.A. 2017
Opening 15 Mar 2018
Directed by: Sean Baker
Writing credits: Sean Baker, Chris Bergoch
Principal actors: Brooklynn Kimberly Prince, Bria Vinaite, Willem Dafoe
Six-year-old Moonee (Brooklynn Kimberly Prince) is a law unto herself. A modern day Huck Finn, she's foulmouthed, sassy, exuberant, and always looking for adventure. Panhandling for ice cream at Twistee Treat, spitting on cars' windshields, accidentally setting an abandoned house on fire, how great is that! Moonee's so darn cute, not one can resist her charms including her young posse of six-year-olds, Scooty and Jancey. What a joyous life she leads, in a gaudy mauve painted budget motel called the Magic Castle in Orlando, Florida, home to Disney World.
Wait, where are Moonee's parents during all these escapades? Her mother Halley (Bria Vinaite) showers Moonee with love, but isn't much more than a child herself. She's a tough, scrappy tattoo covered ex-exotic dancer who hustles perfume and sometimes more than that just so she and her daughter can survive. Like Moonee, Halley is wild, spontaneous, and a cusser, but it's not quite so adorable when you're older than six. The only adult in the room is Bobby (Willem Dafoe) manager of the Magic Castle motel. Soft spoken, patient, and sometimes benevolently ineffective, Bobby watches over these economic outcasts living on the fringes of society in the dark shadows of the Happiest Place on Earth.
The Florida Project was directed and written by Sean Baker (with Chris Bergoch). It is Baker's tribute to The Little Rascals movies from the Great Depression, in which a gang of kids had fun despite their impoverished lives. His cast includes both professional and amateur actors, Brooklynn hasn't had too much time to start a career yet, and he found Bria on Instagram.
This movie in the same genre as American Honey, a film featured at the Filmfest Hamburg in 2016, in which a whole bus load of grown-up Moonees ride together throughout the Midwest selling bogus magazine subscriptions door to door. In both films the underbelly of America's poor whites is being exposed under a glaring spotlight. What made The Florida Project more uplifting was watching the high-spirited shenanigans of that little girl Moonee. Her dreams have not yet been quashed, her spirit not yet smothered. (Pat Frickey)