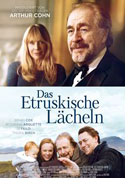 Das Etruskische Lächeln (The Etruscan Smile)
U.S.A. 2018
Opening 12 Apr 2018
Directed by: Oded Binnun, Mihal Brezis
Writing credits: Sarah Bellwood, Michal Lali Kagan, Michael McGowan, Jose Luis Sampedro
Principal actors: Thora Birch, Brian Cox, Rosanna Arquette, Tim Matheson, JJ Feild
The Cameron and MacNeil feud began decades before these current codgers. Ensconced in Vallasay, on a wee Scottish isle, after a send-off of snarling insults, Rory MacNeil (Brian Cox) travels to America. The pretext, and ulterior goal, is miles apart, as is disparities he discovers in San Francisco. From the outset, Emily's (Thora Birch) instinctive levelheadedness offsets the prickly father/son (JJ Feild) relationship.
However, for raising baby Jamie (adorable, sweet-natured Echo Boom Epps), Emily relies on external "proven" techniques. Bungling along, adjustments are made, while Rory gets to the heart of his visit. Jamie becomes his cohort. Required to attend an Emily–Ian orchestrated event, the fathers-in-law (Treat Williams) get a taste of one another, and more importantly, Rory meets Claudia (Rosanna Arquette). Rory hatches a plan telling his accomplice, "we have work to do," which accidentally leads to a Professor's (Peter Coyote) project. Joie de vivre softens Rory's crustiness. Then, just when all the stars align, Rory gets a wake-up call. Still, he stubbornly waits for "seanair."
Personal experience inspired Jose Luis Sampedro to write La sonrisa etrusca (1985) that Sarah Bellwood, Michal Lali Kagan, and Michael McGowan adapt, changing characters' citizenship and locations for the screenplay. Oded Binnun and Mihal Brezis, novices yet Oscar® nominated, direct this smart, funny, and perceptive study of personalities within familial frameworks and nationalities. They shrewdly juxtapose verbal clichés ("a phrase or opinion that is overused") against a visual "gotcha" – may well generate some soul-searching.
Excellently cast by Kerry Barden and Paul Schnee, top-notch actors delightfully inhabit enduring characters, e.g. Cox/Rory transforms noticeably during the 107 minutes. Javier Aguirresarobe's atmospheric cinematography, Roberto Silvi's editing, and Frank Ilfman's music play to the fullness of this heartwarming film. If you have not learned at least one Gaelic word by the end of The Etruscan Smile, you did not pay attention. And, you cannot help but smile when leaving the cinema. (Marinell Haegelin)