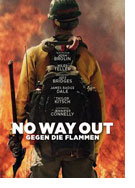 No Way Out – Gegen Die Flammen (Only the Brave)
U.S.A. 2017
Opening 3 May 2018
Directed by: Joseph Kosinski
Writing credits: Sean Flynn, Ken Nolan, Eric Warren Singer
Principal actors: Josh Brolin, Miles Teller, Jeff Bridges, Jennifer Connelly, James Badge Dale
Wildfires demand firefighters with unusual training and personalities – that is this film's frame. Its heart is the Granite Mountain Hotshots; this is their story, and it is true. Ken Nolan and Eric Warren Singer base their tight, empathetic screenplay on Sean Flynn's GQ (Gentlemen's Quarterly) magazine article, No Exit.
Chief Eric "Papa" Marsh (Josh Brolin) and his boys, Type 2 firefighters with Prescott, Arizona's municipal fire department, are aggravated at being pushed aside by California's hotshots—most-highly trained 20-man teams in fighting wildfires. Amanda (Jennifer Connelly) suggests her husband ask his mentor-cum-boss for help. Consequently, Duane (Jeff Bridges) and Eric have a friendly chat with the Mayor (Forrest Fyre); concurrently, Brendan's (Miles Teller) personally motivated downward spin is interrupted. More men are hired, including Brendan. Tested, in 2008 the Prescott team meet the challenge. This close-knit family structure nurtures Brendan's maturity. Fast-forward five years: the hotshot crew is requested at Yarnell (Arizona) to assist in routine wildland firefighting.
Joseph Kosinski's remarkable film is an absorbing, non-flinching look at a memorable tragedy. The top-notch ensemble fills the boots of the heroic men, family members, and friends they portray. The quality of realistic representations is very effective. Stirring, galvanizing cinematography by Claudio Miranda offers audiences jaw-dropping visuals. Whatever you might imagine about fires and firefighters, the natural blending of photography and CGI (computer generated imagery) is spectacular—only the physical heat is missing. Throughout music flavors scenes with local color: in one, Jeff Bridges and The Rusty Pistols perform "Riders in the Sky" (A Cowboy Legend). Dierks Bentley featuring Sean Carey performs "Hold the Light" and Joseph Trapanese's score add sparks. Editor Billy Fox fuses these elements, plus fantastic sound design, to deliver an incredible, astonishing film.
Just as Flynn's article avoids melodrama, Only the Brave shows camaraderie, support and loyalty that exists among men whose lives are interdependent. Some facts in the article with tear-jerking potential are omitted. Obviously, Kosinski's decision was for a purer integrity to honor the Granite Mountain Hotshots. Annually, throughout the U.S.A. hotshot teams respond to requests for the most serious wildfires, and other emergency occurrences, saving lives and properties. A tribute to each brave hotshot comes at this unforgettable film's end, so have a hanky ready. (Marinell Haegelin)