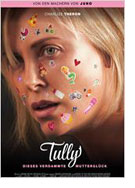 Opening 31 May 2018
Directed by: Jason Reitman
Writing credits: Diablo Cody
Principal actors: Charlize Theron, Mackenzie Davis, Mark Duplass, Ron Livingston, Kitty Crystal
Tully charmingly tells the story of a woman, disorganized, slightly overwhelmed, and somewhat financially-strapped mother of two young children, who is heavily pregnant with a third child. Loved and supported by her well-meaning husband, we first meet Marlo (Charlize Theron) trudging through her ordinary daily routines—which include nuking microwave-prepared meals, shuffling never-ending piles of housework, and driving her children to school. However, we immediately notice that her life is far from being a tightly-run and happy ship. Living the life of a working-class, New York suburban housewife, Marlo is clearly uncomfortable in, if not burdened by, her own skin.
Marlo's second child, a son, has some undiagnosed special needs, which (with the help of YouTube videos she watches once insurance-paid therapy sessions allotments are depleted) she tries to help him cope with through nightly body brushing rituals and keeping his daily routine intact. Her life with her husband (played by Ron Livingston) starkly contrasts that of her affluent brother (Mark Duplass) and wife, who live in a designer house with a live-in nanny. Knowing she could use some extra hands once the baby arrives, her brother gives her an open invitation to hire a night nanny to manage the early morning feedings and nocturnal needs of the household. She flatly refuses, most likely because her family's already benefitting from a better school because of his patronage and influence.
At some point, after a well-crafted montage of scenes highlighting the endless and lonely hours of breastfeeding, burping, diaper changing, crying, soothing and housework drudgery, Marlo accepts his offer and welcomes Tully (Mackenzie Davis) into her late-night life. In short span, Tully proves herself to be a capable childcare giver, albeit unconventional, and becomes a trusted confidante to Marlo. The two women have things in common, and even favor one another. Tully seems to work magic in their lives like a carefree cobbler's elf, tidying up the disheveled den, baking colorful cupcakes, and loving nannying. Marlo begins to return to her old self – coordinating her clothes, playing with her children, applying makeup, taking up jogging, and spicing things up in the bedroom with her video game-obsessed husband. The baby blues begin to dissipate, and life is beginning to look up.
Vague dreams of water and mermaids, and an afterhours jaunt of wild dancing and bottomless cocktails at bars in her old stomping grounds in Brooklyn, foretell that life is not going as well as it seems for Marlo and her family now that free-spirited Tully is on the scene.
Tully is a refreshing examination of the post-partum challenges many women and their families face nowadays. Pleasantly surprised, that the film, which ran at Sundance and opened at Tribeca, doesn't weigh heavy on the darkness that many women feel after childbirth. In fact, childbirth, pregnancy and post-partum experiences seem to be a recurring theme in the screenplays by Juno writer, Diablo Cody. Tully takes a fresh, and often funny, look at the reality of trying to hold yourself together in the face of coming to terms with your past life, which was full of blithe irresponsibility and your present life of loving a mortal partner and mothering children who are perfectly imperfect. Davis is a delightful standout in her title role as night nanny, who is a dream come true for an aging mom who's barely keeping her head—and family—above water. Additionally, Theron (who also co-produced the film) delivers a solid and believable performance. Her downplayed looks, "soccer mom" wardrobe and authentic performance brings to life a modern mom, who's spunky and real, vulnerable and insecure. (Ericka Seifried)