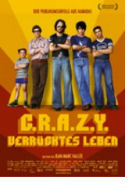 Opening 25 May 2006
Directed by: Jean-Marc Vallée
Writing credits: Francois Boulay, Jean-Marc Vallée
Principal actors: Michel Côté, Marc-André Grondin, Danielle Proulx, Émile Vallée, Pierre-Luc Brillant
Films about families and growing up feature either the family from hell or the shiny happy family.  This film deserves the prizes it has received from the American Film Institute in Los Angeles and the Toronto Film Festival. Frankly it should be required viewing at your next Thanksgiving dinner, guaranteed to make parents and children of  all ages from 14 on laugh, cry and maybe forgive.
For those of us growing up in the 1970s, David Bowie, Pink Floyd and the Rolling Stones provided the soundtrack to our first concert, first date, and first use of a blow-dryer. In fact high school would have been unbearable without the moral support of Bowie's anti-hero hymn, Space Oddity. CRAZY brings those memories right back. We face those years and sartorial challenges through the prism of The Beaulieus:  Gervais (Michel Cote) and Laurianne (Danielle Proulx) and their five sons: Christian, Robert, Antoine, Zac and Yvan, whose initials give the film its title. Christian is the second oldest and resident nerd with acne and glasses; Robert is the spoiled first-born child gone very wrong; Antoine is the taciturn jock with the buzz cut; Zachary is the beautiful conflicted hero; and Yvan is the baby who grows up faster than expected upon finding the body of one of his brothers.
At first glance we could be watching a much funnier and more meaningful  "My Three Sons." However, the camp family scenes serve only to frame the real film.  Zac is growing up in a world where Mom stayed at home and did charity work when not making meals and Dad earned the money and was the cool parent.   In this world washing Dad's car was a privilege. What American or Canadian doesn't remember washing the car with Dad in the driveway while checking out the neighborhood boys and girls? We know Zac is Dad's favorite because Dad gives him room to experiment with girls in his bedroom and teaches him how to drive.  Of course, their special relationship starts to flounder with the onset of puberty and Dad's expectations of what a boy should be or do. CRAZY dwells on just how difficult it is to mature and still like your parents.
CRAZY also does a fine job of both skewering excessive devotion and demonstrating its life affirming role for believers. Catholics in the audience will appreciate numerous references and catholic teen fantasies about a "grooving Xmas Mass."  Patsy Cline fans will enjoy her crooning as leitmotif to Zac's relationship with his father and harbinger of major plot turns. And everyone that has ever struggled with his or her sexuality will admire Vallee's warm and tasteful rendition of coming of age and coming out. (Rita Pearson Schwandt)