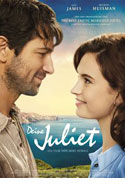 Deine Juliet (The Guernsey Literary and Potato Peel Pie Society)
U.K./U.S.A. 2018
Opening 9 Aug 2018
Directed by: Mike Newell
Writing credits: Don Roos, Kevin Hood, Thomas Bezucha, Mary Ann Shaffer, Annie Barrows
Principal actors: Lily James, Jessica Brown Findlay, Glen Powell, Matthew Goode, Michiel Huisman
Adapted from the book Guernsey Literary and Potato Peel Pie Society by Annie Barrows and Mary Ann Shafer this film was, in a word, wonderful. It's a period drama, a mystery and a love story all rolled into one. Set in post-WW2 England, Juliet Ashton (Lily James), a writer living in post-war London, receives a letter from Dawsey Adams (Michiel Huisman) of the Guernsey Literary and Potato Peel Pie Society requesting help in obtaining a particular book. Through subsequent correspondence we discover the reason behind the curious title of their book club (and an explanation of the opening scenes of the movie). As she becomes more enchanted by their club, she decides to cancel some upcoming book events, much to the dismay of her agent Sidney Stark (Matthew Goode), and travels to Guernsey to meet them in person and write an article about them.
The club members are somewhat reticent about receiving her into their fold and are adamantly opposed to her writing about them. This, coupled with some cryptic remarks by other citizens of the island, lead Juliet to want to dig deeper to uncover the secret they seem to be hiding. The secret, as well as the desperate formation of the book club, goes back to the Nazi occupation of the island during the war. There are several flashback scenes which ultimately reveal the whole story. The flashbacks serve to show the enduring bonds created among these people during times of crisis and the love they share leading them to protect the secret. Not having read the book, I can avoid the whole what's-better-book-or-movie discussion. The actors gave solid performances in portraying the characters of the club: steady and caring Dawsey, solid and dependable Eben (Tom Courtney), lovable but quirky Isola (Katherine Parkinson), damaged and pained Amelia (Penelope Wilton) and the heart of the group Elizabeth (Jessica Brown Findlay).Individually they seem to be an odd mix of friends, but their love of literature brings them together to find love that withstands all adversity. Books do have the power to transport you to another place and time. Their love of literature is beautifully depicted in the first meeting Juliet attends where she reads from her book on Anne Brontë. This leads to a spirited discussion of the Brontë sisters with each one passionately delivering their favorite quotes. This continues up through the closing credits with lines of literature being read. It's uplifting to have a love of books brought to life in another medium.
The strength and resiliency of these people is beautifully depicted in the scene where Dawsey has to deliver some bad news to Elizabeth's daughter, Kit. Someone says "She's too young to understand" to which Amelia replies "I've lived a lifetime and I don't understand" then Eben's grandson, Eli, hands Dawsey the medal of courage Elizabeth gave him when he was evacuated before the occupation. The scene has the power to be incredibly sad and extremely hopeful at the same time. The movie is a testament to surviving and flourishing during difficult times and the strength one gains by the experience. (Anne Crocker)


Second Opinion

Juliet (Lily James) writes under pseudonyms, so publisher, and best friend, Sidney's (Matthew Goode) news is good. London 1947 is yet recuperating, but for many the carnival atmosphere is justified. For Markham (Glen Powell), with Juliet on his arm life could not be happier. After receiving a fortuitous letter, a pen-pal correspondence evolves with Dawsey (Michiel Huisman). Smitten with his fantastically poignant tale about a book club on the Channel Island of Guernsey during Nazi occupation, Juliet invites herself to the group's next meeting. The reception is mixed, one member (Jessica Brown Findlay) is absent, and Juliet's proposal elicits an unqualified "no" from Amelia Maugery (Penelope Wilton). Perplexingly, Eben (Tom Courtenay), Isola (Katherine Parkinson), and Dawsey remain frustratingly noncommittal. Young Eli (Kit Connor) is first to break their silence; she overstays. Still, the more she learns the more Juliet wants to know. Eventually, the floodgate opens on all the stored-up emotions.
Based on Mary Ann Shaffer and Annie Barrows' novel, The Guernsey Literary and Potato Peel Pie Society, the screenplay changes the tone and texture of the original, more potent story. Mike Newell's vacillating direction obscurely interprets the film's focal point, and then muddles the ending. James' character is indecisive, seeming more investigative journalist than wordsmith. Nevertheless, the stellar cast is marvelous with Wilton and Courtenay resonating. Flashbacks provide background details. Production values are top-rate: James Merifield's nostalgic production design adds reality.
Nevertheless, this is a likable film: it combines historical events, a thirst for broadening horizons—reading, and finding courage within companionship. Its essence is about the fragility of friendship, and how families grow from the heart, and are limitless. (Marinell Haegelin)