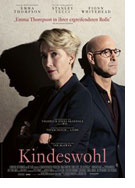 Kindeswohl (The Children Act)
U.K. 2017
Opening 30 Aug 2018
Directed by: Richard Eyre
Writing credits: Ian McEwan
Principal actors: Emma Thompson, Stanley Tucci, Fionn Whitehead, Jason Watkins, Ben Chaplin
Having an author write the screenplay has an added advantage: sagacious visuals replace text and move the story forward in its intended direction. Ian McEwan's interpretation of his same-titled novel is brilliant, that Richard Eyre's symphonic-like careful, aesthetic direction animates. At its heart is the UK Children Act 1989 that safeguards the welfare of children.
High Court Judge Mrs. Justice May (Emma Thompson) cares about the cases, and rulings she issues on the Queen's Bench. So much so, Jack (Stanley Tucci) feels neglected. He loves his wife, but cannot get her to talk to him anymore. Fiona spends more time with her clerk (Jason Watkins), and talks more to a colleague (Anthony Calf). When a teenage Jehovah's Witness case comes before her, Fiona chooses an unconventional approach; the weighty bone-of-contention decision will concern church vs. state, minors vs. adulthood issues. The outcome then is equally challenging, especially for someone who seems to have lost her voice.
Thompson and Tucci's extensive repertoires in film and theater unite to keenly compliment each other's performance beautifully. Ben Chaplin and Eileen Walsh as the parents, Nikki Amuka-Bird as the QC, Dominic Carter, Rosie Cavaliero, et al. performances show measured discernment. There are scenes that balance and embody poignant wisdom and wit, delivered with panache. Andrew Dunn's cinematography—compositionally and tracking shots, and Dan Farrell's harmonious editing and intermingling picture with sound dovetails with Stephen Warbeck's outstanding music. Production design (Peter Francis), art direction (Astrid Sieben supervising), sets (Sara Wan), and costumes (Fotini Dimou) collaborate to deliver a memorable film.
With elements merging so eloquently, The Children Act reminds audiences about what matters in life: relationships, love, and moral courage. (Marinell Haegelin)