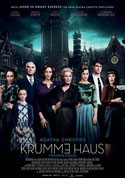 Das krumme Haus (Crooked House)
U.K. 2017
Opening 29 Nov 2018
Directed by: Gilles Paquet-Brenner
Writing credits: Julian Fellowes, Agatha Christie
Principal actors: Max Irons, Stefanie Martini, Glenn Close, Honor Kneafsey, Christina Hendricks
An English country house full of eccentric aristocrats and an upstanding chief inspector from Scotland Yard make up just about every story which Agatha Christie wrote. Crooked House is a perfect example of her style.
Charles (Max Irons) first met Sophia (Stefani Martini) in Cairo during World War Two. Now he's a private detective in London and Sophia seeks him out as she suspects foul play in her grandfather's death. At first Charles is reluctant to take on the case because his affair with Sophia had ended badly, but of course he does. He drives to the stately home where the family lives and meets Aunt Edith (Glenn Close) who is shooting moles in the garden with an ancient and noisy shotgun. Sophia introduces Charles to the rest of the family members. These include the sons of the dead patriarch and their wives, her younger brother Eustace (Preston Norman) and her little sister Clemency (Amanda Abingdon). They are oddbods, the lot of them!
So "whodunnit?" we ask ourselves, along with Charles and Chief Inspector Taverner (Terence Stamp) as the plot unfolds. The first suspect in any Agatha Christie novel is usually the new and glamorous second wife of the deceased and certainly everything points to Brenda (Christina Hendricks) at the beginning of the movie. As Charles meets the other members of the family, however, he—and we—realise that just about any of them could have done the dirty deed and we keep on guessing all the way to the end of the movie.
Despite the large cast of famous actors Crooked House falls flat. The plot is too ponderous and old fashioned and the characters are too predictable for modern audiences. The dramatic ending is memorable but the appetite for Agatha Christie movies is surely sated. We have just finished digesting last year's boring blockbuster Death on the Nile, after all. (Jenny Mather)


Second Opinion

Agatha Christie would definitely approve this film variation of her 1947 same-titled book. Stinking-rich Greek tycoon Aristide Leonides is found dead in anything but a crooked house. Only those residing within the patriarch's manor are less than straight. When Ms. de Haviland (Stefanie Martini) shows up expressing belief Grandpapa was murdered and her imminent danger, ex-diplomat-cum-private-eye Charles Hayward (Max Irons) skeptically listens. Prior to accepting the case, he confers with Scotland Yard's Chief Inspector Taverner (Terence Stamp) about the "controversial figure."
Who benefits from Leonides' demise? Lady Edith (Glenn Close), prideful of De Haviland lineage and residing on the estate since her sister's death, peppers conversations with innuendos, and wit. There are two sons: Roger Leonides (Christian McKay) and wife Clemency (Amanda Abbington), and the older Philip (Julian Sands), wife Magda (Gillian Anderson), and children: adult Sophia, teenager Eustace (Preston Nyman), and precociously pubescent Josephine (Honor Kneafsey). Charles is cautioned the five decades younger and mostly disparaged second wife (Christina Hendricks) is "out of her depth." Of the household staff, only two associate with family: Nanny (Jenny Galloway) and a tutor (John Heffernan). While clue gathering, "Sophia's sleuth" discovers in this hostile, "hothouse of suppression" everyone had something to gain from the old man's death. To boot, as the case ostensibly wraps up, the crooked house yields another body, stoking everyone's worst fears.
Deftly navigating a route other than by boat or train, director-co-writer Gilles Paquet-Brenner manifests the plot's many twists. The superb cast embodies their colorful characters with fine-tuned quirks and mannerism variations. Sebastian Winterø's cinematography sustains suspense, supported by Peter Christeli's keenly honed cuts/editing, and Hugo de Chaire's faultlessly capricious music. Visual period sumptuousness results from Production Design (Simon Bowles), Art Direction (Sion Clarke, supervising), Set Decoration (Rebecca Gillies), and Costume Design's (Colleen Kelsall) teamwork.
In 1971 Agatha Christie was appointed Dame Commander of the Order of the British Empire (DBE) for literary contributions: 66 mysteries, 14 short story collections, six romances (using the pseudonym Mary Westmacott), and the world's longest-running play, a thriller, The Mousetrap. Christie's classic murder plots combined detectives, e.g. Miss Marple and Hercule Poirot, entwined multitude suspects whose secrets the detective eventually uncovers, plot snags and turnarounds, and unpredictable or no culprits. An unexpected climatic twist guaranteed Christie the ultimate ending.
As a life-long Christie fan, there is no doubt Paquet-Brenner could thrill further audiences, considering the "Queen of Crime's" extensive oeuvre. (Marinell Haegelin)