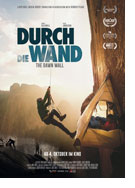 Durch die Wand (The Dawn Wall)
Austria 2017
Opening 4 Oct 2018
Directed by: Josh Lowell, Peter Mortimer
Writing credits:
Principal actors: John Branch, Tommy Caldwell, Kevin Jorgeson
Tommy Caldwell and Kevin Jorgeson did not wake up one morning and decide to climb the "Mecca of world mountain climbing." Both experienced rock climbers, the decision was the result of a years-long pursuit and methodical planning. Their story is incredible, their feat phenomenal. Even if the idea of physical exercise is abhorrent to you, see this – it is so much more than just a film.
Josh Lowell and Peter Mortimer have constructed one of the best documentaries out in a long while, especially considering it is based on personal achievement, and not some chiasmic world event. Integral is Brett Lowell and his team's incredible, breathtaking cinematography from all imaginable angles. After getting a birds-eye, wind-whistling view of the location and base camp on Day 9, during the next 100 minutes we learn about Tommy and Kevin's lives, a cataclysmic experience Tommy had at 22, what brought Tommy and Kevin together that developed into a buddy system, and their visceral views about this undertaking.
As well, a succinct structure and outline of bouldering, i.e. rock climbing and the type known as free climbing is laid out during the documentary. What equipment for big-wall free climbing is necessary, possible challenges, and levels of expectations. Tommy was a prodigy at 16 under his dad's tutelage, and together they reshaped hardship in to resilience; self-motivated, Kevin kept pushing the degree-of-difficulty meter ever higher.
On December 28, 2014 they turned to El Capitan, a majestic 3000-foot (914 m) straight up daunting edifice in Yosemite National Park, Colorado USA. The Dawn Wall's symmetry is accomplished through Josh Lowell's editing that intersperses archival/location footage and on-camera interviews with Adam Crystal's music and excellent sound design. Spectacular imagery and a gripping, emotionally charged story packed with information to the very end make this a memorable and must-see film. (Marinell Haegelin)