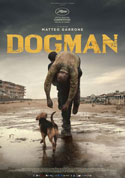 Opening 18 Oct 2018
Directed by: Matteo Garrone
Writing credits: Ugo Chiti, Matteo Garrone, Massimo Gaudioso, Marco Perfetti, Giulio Troli
Principal actors: Marcello Fonte, Edoardo Pesce, Nunzia Schiano, Adamo Dionisi, Francesco Acquaroli
Fusing their talents, director-co-writer Matteo Garrone and cinematographer Nicolai Brüel deliver a thought-provoking, downbeat film. Light on dialogue, Brüel's camera sneaks around corners, hovers in the background, and gets in faces to provide subtext, and clues. Their focal point is Dogman's owner Marcello's (Marcello Fonte) existence—with peers and patrons—in a neglected, downtrodden neighborhood in southern Rome.
Moving at a snail's pace, the diminutive dog groomer's life unfolds: Marcello's love for dogs, daughter (Alida Baldari Calabria), and subterfuges that he precariously tries to balance. Local bully Simoncino's (Edoardo Pesce) behavior continually sidetracks Marcello, while underplaying the frustrations by fellow merchants Franco (Adamo Dionisi) and Francesco (Francesco Acquaroli). Nevertheless, Marcello's friendship with the ex-boxer ultimately leads to banishment, i.e. incarceration, and then ostracism… without recompense. Humiliated and angry, Marcello's scheme gets him way more than he bargained for. Because, retribution is not Marcello's forte.
Fonte's mercurial and melancholic performance—his eyes, facial expressions—is magnetic, carrying the film. The plot probes at people's primitive flaws ranging from envy, distrust, hostility, jealousy, and Schadenfreude to remorse, self-preservation, and loneliness. Cinematography, music (Michele Braga), production design (Dimitri Capuan), and sound design harmoniously merge. Marco Spoletini's tempered editing adds equilibrium, while maintaining aesthetic attributes.
Perhaps a scene close to the end between Simoncino and Marcello at Dogman, watching dogs' expressions watching the two men, is a harbinger… Dogman's puzzling, nebulous ending leaves us none the wiser. Only with time does its ambiguity make any sense, even though it does not evoke sympathy. (Marinell Haegelin)