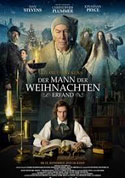 Charles Dickens: Der Mann, der Weihnachten erfand (The Man who Invented Christmas)
Ireland/Canada 2017
Opening 22 Nov 2018
Directed by: Bharat Nalluri
Writing credits: Susan Coyne, Les Standiford, Charles Dickens
Principal actors: Dan Stevens, Mark Schrier, Patrick Joseph Byrnes, Miriam Margolyes, Morfydd Clark
Charles Dickens (Dan Stevens), celebrated author of Oliver Twist, is rattled after three major flops in 1843. To secure his opulent lifestyle in his big mansion and five children, and with one more on the way, he is in desperate need to come up with new material to secure another book deal with his publisher. Unfortunately, his inspirations are dull and even when he believes to have found a story worth telling, the publishers are discouraged, when as little as three months away from Christmas, Dickens proposes to write a Christmas story, leaving only little time for printing and illustrating the piece. Charles Dickens decides to take matters in his own hands and assembles his chapters one by one in less than six weeks.
Based on the book with the same name by Les Standiford, we are taken on this journey of how Dickens could have developed the famous characters like Scrooge (Christopher Plummer) or Tiny Tim and find out about the inspirations for the popular A Christmas Carol, that helped shape the understanding of Christmas for the Western world, as we know it today.
The characters come to life as Charles Dickens is on a wild journey of finding not only the right story and character traits, but what Christmas really means.
The character of Scrooge is the brilliant depiction of how we all imagine Ebeneezer Scrooge, however also how he has also been portrayed over and over again in the last 90 years of film adaptions of A Christmas Carol. No surprise here, other characters like Tiny Tim, also lack the novelty this interpretation could have presented for a change.
This is an entertaining movie about the creative process of an author but neglects to use the potential A Christmas Carol would have in sentiment and atmosphere. I would have wished for more goosebumps, a heavy heart and maybe a small tear in my eye and that warm fuzzy feeling Christmas movies tend to leave behind. Not here, however. (Karen Eve Malinowski O'Shaughnessy)