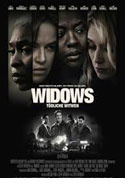 Widows - Tödliche Witwen (Widows)
U.K./U.S.A. 2018
Opening 6 Dec 2018
Directed by: Steve McQueen
Writing credits: Gillian Flynn, Steve McQueen, Lynda La Plante
Principal actors: Viola Davis, Michelle Rodriguez, Elizabeth Debicki, Liam Neeson, Jon Bernthal
Based on Lynda La Plante's 1983 same-titled, female-empowering novel, Steve McQueen's direction is sharp and robustly unsparing. The dramatic heist-thriller's tightly wound screenplay was co-written by Gillian Flynn and Steve McQueen that Joe Walker's crisply paced editing superbly supports. A skillfully constructed opening sequence introduces Widows numerous characters. Set in Chicago—third largest city in USA—its colorful, and checkered past plays fiercely into the storyline.
Since mid-19th century, gangsters were prolific in the "Windy City" leaving fertile territory for whiter-collar mobsters a century later. In politics, Mulligan's have controlled the 18th Ward for 60 years. Tom (Robert Duvall) is reluctantly handing the torch to son Jack (Colin Farrell); already that "tricky" Jamal (Brian Tyree Henry) is moving in. A contentious election, Jatemme (Daniel Kaluuya) follows Jamal's instructions, even when disagreeing with dad. Concurrently, at a deeper level, old-time criminality is flourishing.
Veronica's (Viola Davis) world shatters upon learning Harry (Liam Neeson) and gang are dead. More confusing is his legacy to her. Veronica has Bash (Garret Dillahunt) contact the other wives; she has a plan when she meets Linda (Michelle Rodriguez) and Alice (Elizabeth Debicki). As the pace accelerates, political lines blur and pressure percolates. Veronica stops by Amanda's (Carrie Coon), and experiences a revelation that clarifies episodic incidents. The countdown begins when Belle (Cynthia Erivo) is onboard. Whether the gals have the "balls" to pull it off is the millions-dollar-question.
Viola Davis' deftly gauged performance breathes life in the character: watch Veronica's disillusionment, then as she reinvents herself. The women are obviously out of their depth, yet as each woman leaves her comfort zone there are wonderful "gotcha" scenes. The ladies carry the film—sure to see more from Debicki and Erivo, with backup from the seasoned pro gents. Duvall/Tom Mulligan and Jacki Weaver/Agnieska performances are matchless. Fuse Sean Bobbitt's adroitly revealing cinematography, together with Hans Zimmer's sensations-tickling music for a fresh, raw yet engaging film.
Imagine the book's impact in 1983 (primetime British television aired series in 1983 and 1985). Decades later, gender inequality is being briskly overhauled. Widows' didactic strength is its combination of societies prevalent disenfranchisement, while it raises questions about roles prescribed to gender that McQueen's savvied interpretation integrates into the charged action. The film grabs, and then hangs on to audiences as they root for unlikely, do-or-die heroines. (Marinell Haegelin)


Second Opinion

Viola Davis, who plays Veronica Rawlis, is the undoubted star of this star-studded movie. Veronica lives in a swanky upscale apartment in Chicago but discovers that she, along with three other women whom she has never met, has been left penniless. The women have been widowed because their husbands died in a robbery which went terribly wrong. Mr Rawlis (Liam Neeson) may have been a bank robber, but he was considerate enough to leave the notebook in which he plotted his crimes to Veronica. She, however, doesn't put it to the use which her husband intended and so the story begins. Veronica gets in touch with the other widows and two of them, Linda (Michelle Rodriguez) and Alice (Elizabeth Debicki) agree to follow her plan. The fourth widow has a trick up her sleeve.
As the plot unfolds we are introduced to more stereotypes than you can shake a stick at. These include Jack Mulligan (Colin Farrell) who is the corrupt politician son of a corrupt politician father and Jatemme (Daniel Kaluuya) who is just about the wickedest gangster ever found in a movie. And then there are trigger happy white cops who shoot first and ask questions later, religious leaders with easy consciences and terrible racial profiles.
The violence is such that at times you have to avert your eyes but there is no denying that Widows has a story that keeps your attention and its twists and turns keep you guessing right up to the last minute. Director Steve McQueen, who received an Oscar for his movie Twelve Years a Slave, couldn't have made a more different one this time where the influence of Gillian Flynn's script writing has had a strong influence. It is based on the book Widows by Lynda La Plante. What the good, law-abiding people of Chicago will make of this portrayal of their city can only be imagined. And wouldn't it be nice for a change to watch a movie where all the male characters aren't heaps of trash? (Jenny Mather)