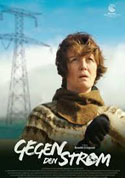 Gegen den Strom (Woman at War, Kona fer í stríð)
Iceland/France/Ukraine 2018
Opening 13 Dec 2018
Directed by: Benedikt Erlingsson
Writing credits: Ólafur Egilsson, Benedikt Erlingsson
Principal actors: Halldóra Geirharðsdóttir, Jóhann Sigurðarson, Juan Camillo Roman Estrada, Jörundur Ragnarsson
Director Benedikt Erlingsson's imaginative use of music as the (protagonist) emotional harbinger is distinctly alluring. The roll of drums, a flaring sousaphone, accordion trills or piano chords are interchanged, depending whether fair or ill winds blow. Whereas, Erlingsson depicts hope through a trio of singers in Ukrainian native attire; pay attention to the musical troupes' placement at the end.
The twins (both played by Halldóra Geirharðsdóttir) embrace life passionately in their beliefs, convictions, courage, and commitment. Halla is like a valkyrie grasping the tiller while steering fearlessly at her chosen – currently the aluminum industry's wrongs to her country's ecosystem. Halla's actions reverberate throughout the island; police action intensifies, as does media coverage. When not an activist, Halla directs a choir, whereas, Ása placidly lives her Zen-ness, and teaches yoga. A phone call's surprising news, in the form of little Niki (Margaryta Hilska), forces Halla to reevaluate priorities. When Sveinbjörn (Jóhann Sigurðarson) drops Halla off everything is progressing according to plan, and then it is not, and with no room to wiggle.
Cinematographer Bergsteinn Björgúlfsson encapsulates the pristine, and rugged, smudged Icelandic landscapes that atmospherically represents onscreen events in tone and texture. Halldóra Geirharðsdóttir blithely steps into that landscape to deliver an awe-inspiring performance. At the end is a scene with a dazzling twist; in tandem with Erlingsson and Björgúlfsson's camera, as the sisters' hug, Geirharðsdóttir lets audiences inside Halla's space/confusion, with the result that we all ultimately and simultaneously understand. Davíð Þór Jónsson's music adds flavorful dimensions; David Alexander Corno edits. A tourist character, clearly serving a purpose during the film, is uncharacteristically abandoned. Just as, using the musical troupes more sparingly could have had greater effect.
Erlingsson's individualistic style and quirky wit fuse with notable talent to command attention in this political satire film. Woman at War leaves an impression: She is definitely someone you want on you side. (Marinell Haegelin)