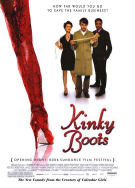 Opening 17 Aug 2006
Directed by: Julian Jarrold
Writing credits: Geoff Deane, Tim Firth
Principal actors: Joel Edgerton, Chiwetel Ejiofor, Sarah-Jane Potts, Ewan Hooper, Nick Frost
***Coming directly to DVD***
Kinky Boots (made by the producers of Calendar Girls) is one of those movies where someone meets someone he would never ever ordinarily meet under very strange circumstances and from that a great story evolves. When Charlie Price (Australian Joel Edgerton) goes to London to try to save the family shoe manufacturing business from bankruptcy, he meets drag queen Lola (Chiwetel Ejiofor who was in Love Actually). Lola, like most drag queens, spends most of her time painfully tottering around on shoes meant for women's feet. So, after much deliberation and subsequent problems - not only with his fiancée but also with his employees - Charlie decides to turn his back on tradition and produce kinky boots for a market demanding women's boots for men.
The movie centers on the friendship of the two very different men and questions personality and identity. Exactly which of the two is actually different? And then there is the subject of provincial narrow mindedness which obviously can be overcome - or was it just imagined?!
The film is delightful and funny and yet there are plenty of moving emotional scenes. And the music is great. The exciting climatic moment of Kinky Books is definitely the Catwalk scene at the Milan Shoe Fair.
Lola is a good singer in her own right and songs were chosen that had a connection to the theme and the story. (Thelma Freedman)