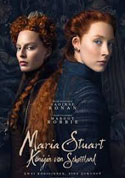 Maria Stuart, Königin von Schottland (Mary Queen of Scots)
U.K. 2018
Opening 17 Jan 2019
Directed by: Josie Rourke
Writing credits: Beau Willimon, John Guy
Principal actors: Saoirse Ronan, Margot Robbie, Jack Lowden, Guy Rhys, Thom Petty
Oops, oh dear, did someone make a huge mistake? This is a question to ask yourself after you've seen this movie. Is it alright to take artistic license when making a movie about historical characters as director Josie Rourke has done, or do such people have a duty to portray facts correctly?
Everybody knows the story of the tragic Scottish queen and this movie adds nothing new to our knowledge of her. Mary was sent to the French court when she was a child and she was married off to the Dauphin. When he died, Mary found herself a widow at eighteen instead of the future Queen of France as she had expected. She returns home to Scotland and this is where the movie begins.
Mary is played by Saoirse Ronan and her cousin Elizabeth by Margot Robbie. Miss Ronan dazzles in her role but the two young actors both shine in their parts. There is also a memorable cameo part from David Tennant who, using his natural Scottish accent to great effect, plays the religious firebrand John Knox. The Protestant cleric loathed the flighty Catholic girl with her Popish ways and he stirred up the Scottish people against her. When Mary returned to Scotland in 1531 she knew that a woman's lot and, most especially a queen's, was to produce an heir. Queen Elizabeth dallied with Robert Dudley (Joe Alwyn) while Mary, desperate to have a child to carry on her claim to the English throne, settled on Lord Darnley (Jack Lowden). He was a ne'er do well who came to a sticky end. Both women struggled continuously to keep their identity in the masculine worlds they ruled in.
Sumptuous costumes, amazing hairstyles and stunning scenery make this a history movie which you'll enjoy in spite of the choppy and confusing rapid changes of scenes. Mary is a charismatic figure who still fascinates after 500 years. No matter that this Mary has a Scottish accent rather than the French one which contemporary sources claimed she had. What you may balk at however, is the scene when the two queens meet, in of all places, an old barn used for drying laundry. Does it matter that they never met in real life? You can decide for yourself after you have seen this movie. Based on the book Queen of Scots: the True Life of Mary Stuart by John Guy. (Jenny Mather)