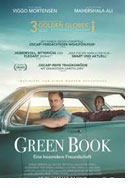 Green Book – Eine Besondere Freundschaft (Green Book)
U.S.A. 2018
Opening 31 Jan 2019
Directed by: Peter Farrelly
Writing credits: Nick Vallelonga, Brian Hayes Currie, Peter Farrelly
Principal actors: Viggo Mortensen, Mahershala Ali, Linda Cardellini, Sebastian Maniscalco, Dimiter D. Marinov
From 1936 to 1966, Victor Hugo Green's annually printed guidebook, The Negro Motorist Green-Book, was a standard aid for Black people making roadtrips. That analogy with Green's book establishes: prejudices running deeper than skin color, obstinacy, and myopic provincialism with few limitations. These elements are central to Green Book's screenplay Tony's son, Nick Vallelonga co-scripted with Brian Hayes Currie and Peter Farrelly.
It is 1962, and a thriving Italian-American nightclub's strong-armed bouncers restrain its sometimes-rambunctious mixed clientele. Particularly, Tony "Lip" (Mortensen) whose persuasion is very effective. When the club closes two-months for renovations, Tony is compelled to take a job that normally would be repugnant. Some doctor needing a personal driver/bodyguard turns out to be a renowned concert pianist (Ali): a learned, sophisticated, and genteel snob. And black. Neither is unduly impressed with the other. But, Tony's talents come highly recommended, and Shirley's pay is good. Delores (Cardellini) consents, as long as Tony is home for Christmas with their two young sons. The Don Shirley Trio's (Dimiter D. Marinov, Mike Hatton) tour takes them into the Midwest's vistas and rolling hills, and will finish in redneck southern states; Tony is gobsmacked by the ruralism. Testing one another's patience, tolerance is required from both sides. Despite that, Don helps Tony compose letters to Delores; Tony makes sure the directive for a Steinway piano onstage is honored. Only when preconceptions are disproved do cracks appear in Don's veneer, whereas Tony's rough profession has schooled him well. Except for segregation issues. Seeing ubiquitous "Coloreds Only" signs and the accommodations Green's book offer travelers erases a certain naiveté the Bronx, New York native has. Both are traveling uncharted territory, whereby they are somewhat lost.
Under Peter Farrelly's deft, sensitive direction, the skillful Viggo Mortensen and Mahershala Ali deliver phenomenal performances. In portraying their antithetical characters, they adroitly apply tempered shadings/timing to the shared incidents that coerce their characters to revisit preconceived ideas/opinions. The cast is first-rate; many are Vallelonga relatives. Tim Galvin's production design, and Kris Bowers' music atmospherically capture the 1960's milieu. Sean Porter's absorbing cinematography and Patrick J. Don Vito's measured editing match each landscape's tempo and texture.
Green Book pays homage to friendships. In this particular case, and considering the players, a friendship strikingly at odds. Yet in spite of that, that trip had a lifelong impact. "Genius is not enough, it takes courage." (Marinell Haegelin)


Second Opinion

1962, New York City: Tony (Viggo Mortensen), a bouncer for the legendary Copacabana, is a man that can deal with "problematic situations". When the "Copa" is closed for renovations, he is in need of an interim job solution. At the same time, Piano virtuoso Dr. Shirley (Mahershala Ali), is looking for an assistant for a concert tour through several states, many of which are in the deep south - which back in 1962 were still under strict observation of racial segregation. So naturally, this won't just be a chauffeur job, but might be a task for his "problem solving skills". Tony is reluctant to be a "butler" to a "negro" but in the end: If the money is right, Tony won't mind who he works for.
The pair couldn't be any more different. Dr. Shirley is sophisticated, speaks in impeccable diction, and is a calm and genius soul. Tony, on the other hand is impulsive, rough and uneducated.
During the course of the two months on tour, driving hundreds of miles together, Tony gets to see the discrimination and heavy burden Dr. Don Shirley carries as a black man in 1960's America. Accepted and cherished for his fine art of music, Shirley, at the same time, is supposed to use the outhouse and won't be served dinner in the main restaurant.
The title of the film refers to "the Negro Motorist Green Book" - a guide for those travelling the United States, unsure where to stay, eat or pump gas in unknown areas if they are black. This book is the necessary reference for Tony to get around the south, making sure Don Shirley reaches all his concerts without delay or trouble. If only a book could solve the real problems that easily!
We are at a point in time where this movie seems to be a necessary reminder of what has been, and where we have been heading in the United States, and all over Europe, so it feels. This film, based on true events, exposing hypocritical morals and everyday racism in the Southern '60s does not hide the fact that you don't have to be a Southern hillbilly to be racist then, or today for that matter. (Karen Eve Malinowski O'Shaughnessy)